"38 Governors Sign 'a Compact to Improve State Cybersecurity'" | Government Technology
"Tillerson to Shut Cyber Office in State Department Reorganization" | Bloomberg
"Top State Cyber Official to Exit, Leaving a Myriad Questions" | Politico
Rhode Island recently hosted the National Governors Association (NGA) meeting, during which 38 state governors pledged to make cybersecurity a top priority and agreed to further develop statewide plans to enhance cybersecurity governance, prepare and defend their states from cyber incidents, and grow the nation's cyber workforce.
The NGA meeting, which drew high-profile speakers such as Vice President Mike Pence and Canadian Prime Minister Justin Trudeau, kicked off with a panel discussion on cybersecurity and concluded with the announcement of a "Compact to Improve State Cybersecurity." The joint declaration emerged after a year-long initiative spearheaded by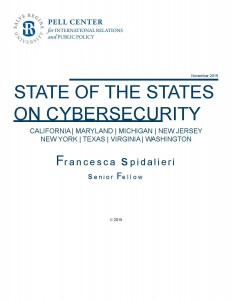 Virginia Governor Terry McAuliffe—who is also the NGA's Chairman—called Meet the Threat, which sought to create guidelines that could be applied across states to promote cybersecurity. Governor McAuliffe had previously argued that instead of waiting for the federal government to act, states should assume a larger role in promoting cybersecurity, and suggested that his colleagues think of their IT defense as "a health issue, an educational issue, a public safety issue and an economic issue, as well as a democracy issue." This is similar to what I have written about before—states cannot wait for the federal government to provide responses and solutions before taking action, and they must start developing comprehensive strategies to strengthen their cybersecurity posture, improve their cyber resilience, and ensure that their citizens can rely on safe and secure Internet connectivity.
Rhode Island Governor Gina Raimondo joined 37 other governors in signing the compact and reaffirmed her commitment to combat cyber and homeland security threats. "Much of the work this compact talks about is already under way here in Rhode Island," said Mike Steinmetz, Rhode Island's first cybersecurity officer and principal advisor for homeland security. "It is critical that we work together with our state partners and with national resources in the intelligence, public safety and information technology communities to enhance our resiliency."
The governors' agreement, which drew bipartisan support, included provisions to: boost cybersecurity employment by working with colleges to increase the number of related degree programs; place veterans into cybersecurity training programs or cyber-related jobs; encourage colleges and universities to seek the designation as NSA-DHS National Centers of Academic Excellence in Information Assurance and/or Cyber Operations; organize a framework for information sharing by partnering state homeland security and information technology representatives with critical infrastructure and key resources operators; incorporate the National Guard into states' "cyber response plans" and work with state lawmakers to determine when the Guard should be activated in the event of a cyberattack. As evidence of its strong cybersecurity posture, Rhode Island has already begun to address all of such efforts.
Unfortunately, the commitment by these states to work collaboratively with their local and federal partners to enhance their defenses against cyber threats was overshadowed by news that the federal government was potentially downgrading the role of U.S. leadership in cyberspace and its commitment to international cyber-related issues. Shortly after the NGA meeting, Christopher Painter—the State Department's coordinator for cyber issues and top cyber diplomat—announced that he would leave his job at the end of the month. Painter had been leading American delegations to international cybersecurity meetings for several years, negotiating joint agreements with other countries on issues ranging from protecting critical infrastructure to developing international norms of state behavior in cyberspace. In addition, Secretary of State Rex Tillerson is considering closing the State cyber office, merging it with another office, or downgrading the cyber coordinator's rank. As Jason Healey, visiting scholar at The Hoover Institution at Stanford University pointed out, eliminating or downgrading the State Department's dedicated cyber mission "would mean the United States would be the only major country without a lead diplomat to discuss cyber norms and trying to reduce the ever-escalating cyberattacks we see around the world." The U.S. was the first country to create a high-level diplomat role addressing cybersecurity issues, and dozens of other countries have since followed suit. "It is not just a shame if the U.S. were to surrender that leadership, but would mean the future internet will have more Russian and Chinese characteristics," Healey added.
While the cybersecurity environment continues to deteriorate with cyber threats growing in scope, volume, and sophistication, and as geopolitical tensions remain high with slow progress on the diplomatic front, it remains unclear how the Trump Administration—which has yet to fill many of the vacant roles with major cybersecurity responsibilities—plans to approach all these important cyber challenges both domestically and internationally. President Trump's Executive Order on Cybersecurity, for example, directed government agencies to further study the problem and requested those agencies to produce several related reports in the coming months, but did not clarify how the Administration will prioritize competing interests. These reports will require agencies to dedicate limited and shrinking resources to drafting those reports, which may distract from their current cybersecurity activities and operations. Painter's departure, moreover, will likely complicate the State Department's task of delivering an international cyber strategy to the President by late September as part of the executive order.
While the President began his tenure at a time of considerable cyber insecurity facing both state and federal agencies, public and private organizations—and an associated growing public awareness of these issues—he has yet to demonstrate an understanding of what is at stake and a willingness to take a leadership role in addressing these challenges. – Senior Fellow for Cyber Leadership Francesca Spidalieri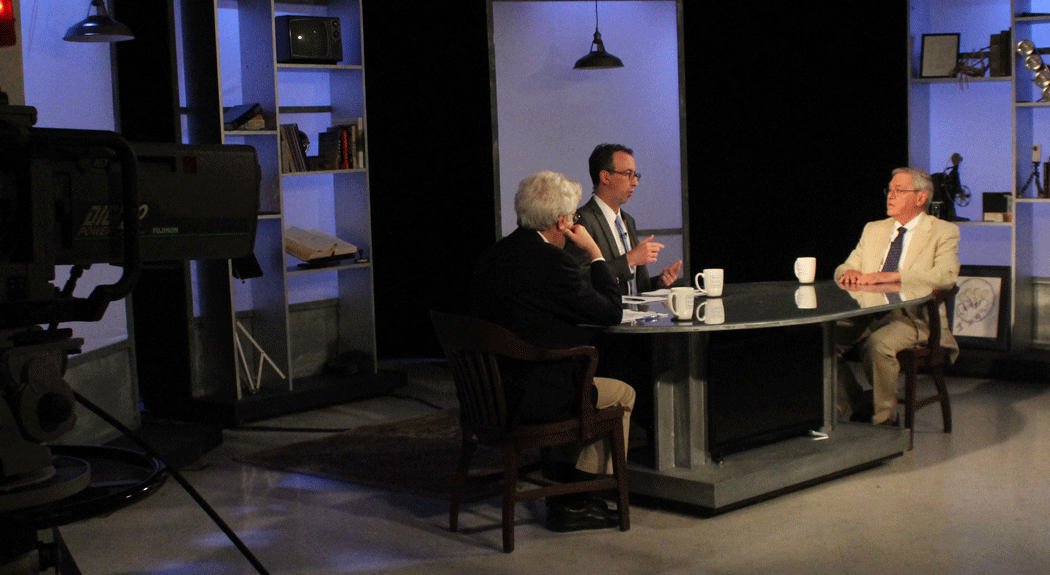 In grade school, we learned about the 19th century competition between European great powers for control of Africa's natural resources. Guest Michael Klare warns about a 21st century scramble for what's left.
Klare is the Five College Professor of Peace and World Security Studies (a joint appointment at Amherst, Hampshire, Mount Holyoke, and Smith Colleges and the University of Massachusetts at Amherst), and director of the Five College Program in Peace and World Security Studies at Hampshire College in Amherst, Massachusetts.
Klare is the author of fourteen books, including: Resource Wars (2001); Blood and Oil (2004); Rising Powers, Shrinking Planet (2008); and The Race for What's Left (2012). He is also the defense correspondent for The Nation and has written for Current History, Foreign Affairs, Le Monde Diplomatique, the Los Angeles Times, Newsweek, the New York Times, Scientific American, and Technology Review.
"Story in the Public Square" airs on Rhode Island PBS in Rhode Island and southern Massachusetts on Sundays at 11 a.m. and is rebroadcast Thursdays at 7:30 p.m. An audio version of the program airs Saturdays at 8:30 a.m. & 10:30 p.m. ET and Sundays at 1:30 p.m. ET on SiriusXM's popular P.O.T.U.S. (Politics of the United States), channel 124.
Story in the Public Square is a partnership between the Pell Center and The Providence Journal. The initiative aims to study, celebrate, and tell stories that matter.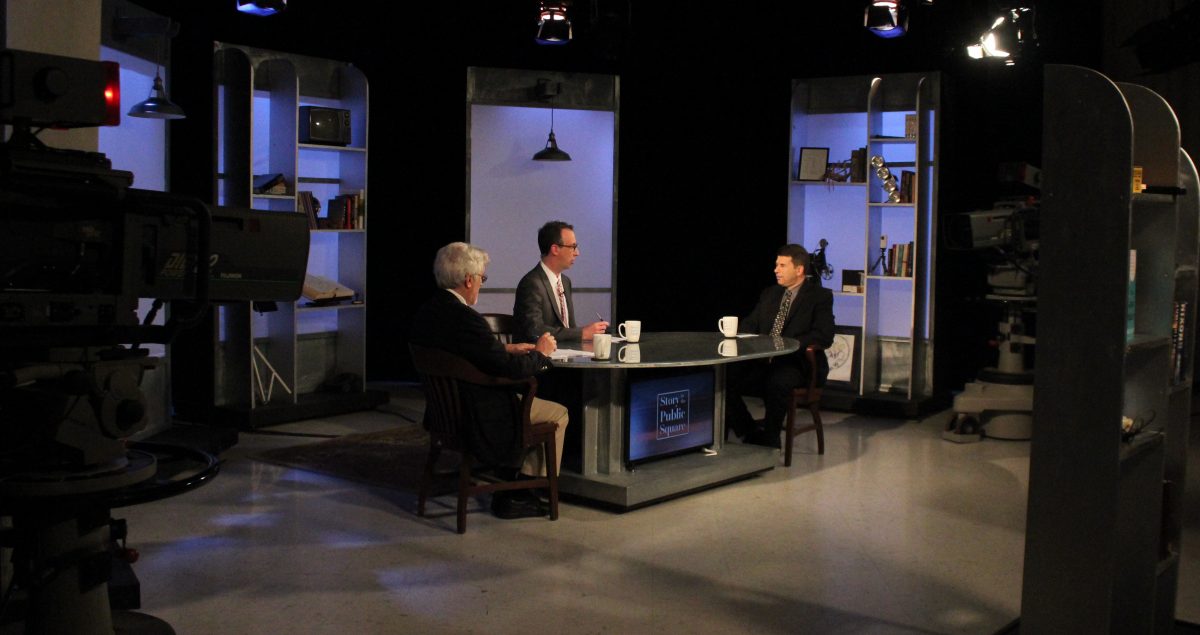 Policy debates in Washington have long been dominated by think-tanks and academics who populate the marketplace of ideas. Daniel Drezner argues that new players are entering the field, such as global consultancies and billionaire-funded pet projects.
Drezner is professor of international politics at the Fletcher School of Law and Diplomacy at Tufts University, a nonresident senior fellow at the Brookings Institution, and a contributor at The Washington Post.
Drezner recently published his latest book, The Ideas Industry: How Pessimists, Partisans, and Plutocrats are Transforming the Marketplace of Ideas. His previous books include All Politics is Global: Explaining International Regulatory Regimes (Princeton University Press, 2007), which explores how and when regulatory standards are coordinated across borders in an era of globalization, U.S. Trade Strategy (Council on Foreign Relations, 2006), and The Sanctions Paradox (Cambridge University Press, 1999).
"Story in the Public Square" airs on Rhode Island PBS in Rhode Island and southern Massachusetts on Sundays at 11 a.m. and is rebroadcast Thursdays at 7:30 p.m. An audio version of the program airs Saturdays at 8:30 a.m. & 10:30 p.m. ET and Sundays at 1:30 p.m. ET on SiriusXM's popular P.O.T.U.S. (Politics of the United States), channel 124.
Story in the Public Square is a partnership between the Pell Center and The Providence Journal. The initiative aims to study, celebrate, and tell stories that matter.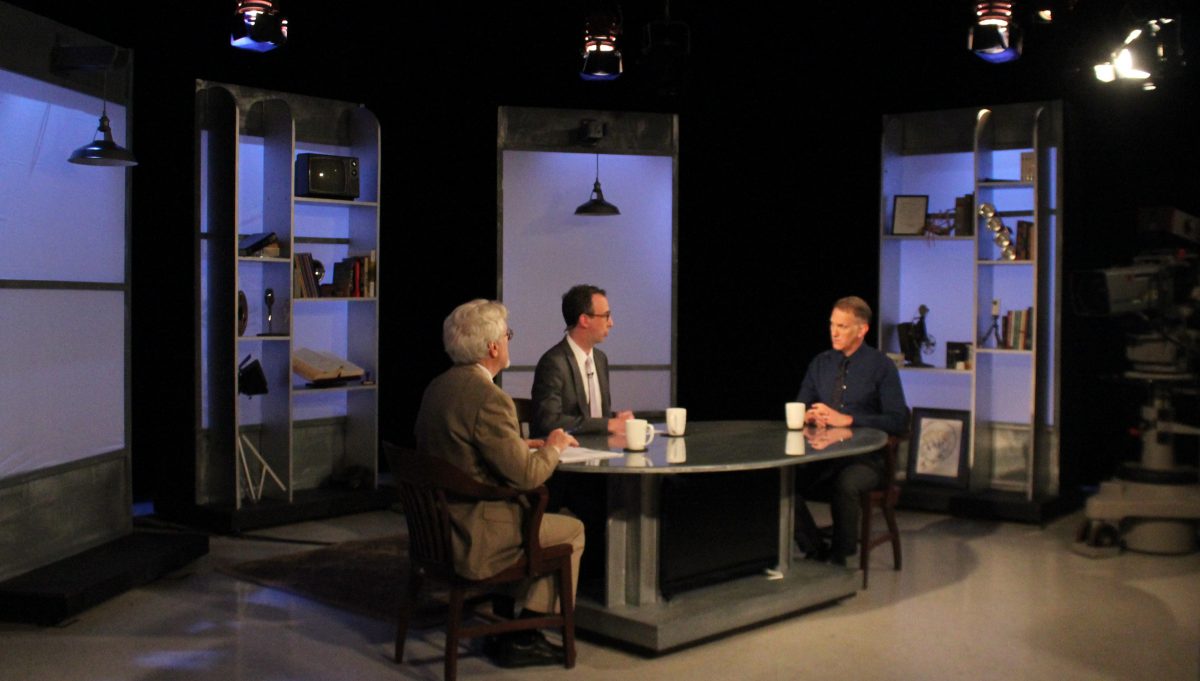 In the 1930s and early 1940s, prominent Americans publically endorsed a policy of "America First," even if that meant turning a blind eye to the violence done in Europe by fascist political parties in Italy and, especially Germany.  Christopher Vials argues that American fascism has roots that go back to the end of World War I—and is enjoying new dynamism today.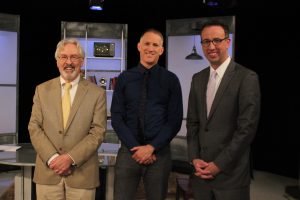 Vials is an Associate Professor of English at the University of Connecticut-Storrs, where he is also the Director of American Studies. His broader research interests include class and racial formation, popular culture, ethnic studies, and working class cultural studies.
Vial's monograph, Haunted by Hitler: Liberals, the Left, and the Fight against Fascism in the United States, looks at the ways in which antifascism, a political discourse with origins in the international left of the 1930s, remained in US popular culture after the Second World War.
His first book, entitled Realism for the Masses: Aesthetics, Popular Front Pluralism, and US Culture: 1935-1947, examined how the 1930s and 1940s left popularized realism in the US, and in so doing, re-shaped the contours of American pluralism.
"Story in the Public Square" airs on Rhode Island PBS in Rhode Island and southern Massachusetts on Sundays at 11 a.m. and is rebroadcast Thursdays at 7:30 p.m. An audio version of the program airs Saturdays at 8:30 a.m. & 10:30 p.m. ET and Sundays at 1:30 p.m. ET on SiriusXM's popular P.O.T.U.S. (Politics of the United States), channel 124.
Story in the Public Square is a partnership between the Pell Center and The Providence Journal. The initiative aims to study, celebrate, and tell stories that matter.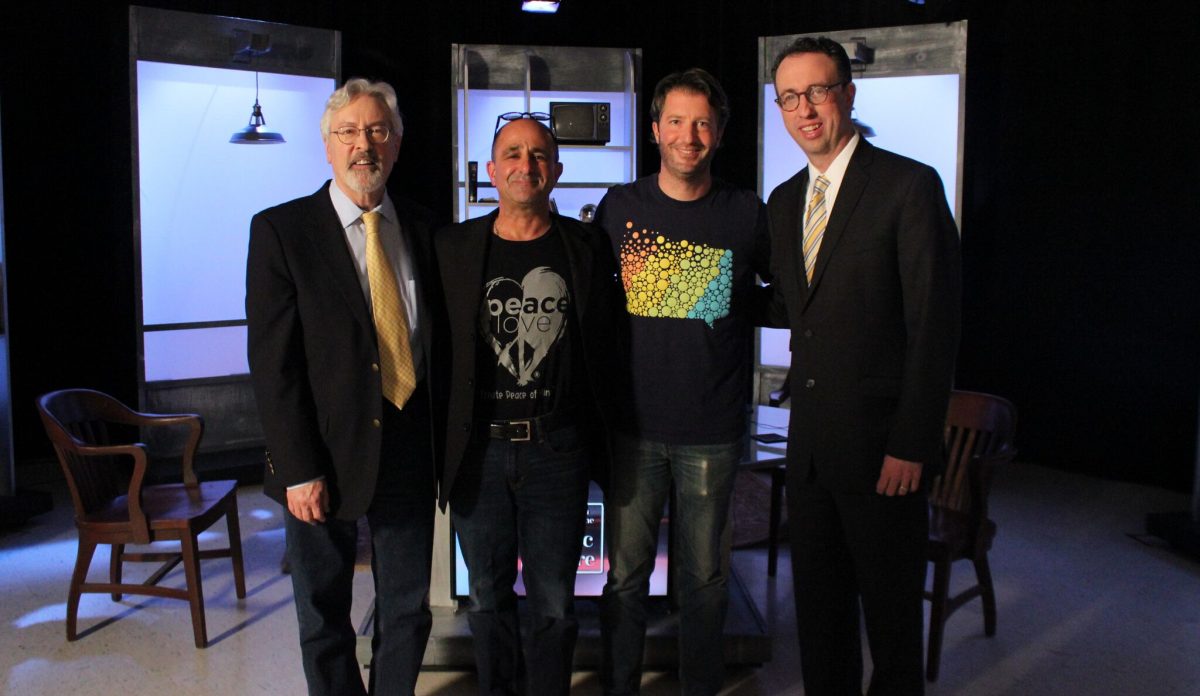 About one in five Americans live with a diagnosable mental disorder. This week's guests, Jeff Sparr and Matt Kaplan, are creators of a program that uses storytelling and expressive arts to create peace of mind.
Based in Rhode Island and with an international reach, the non-profit organization PeaceLove Studios promotes mental wellness and fights stigma against mental illness with the use of expressive arts. PeaceLove offers services through its centers and with outreach programs that bring the message of mental wellness and acceptance through art to schools, workplaces and other venues.
"Story in the Public Square" airs on Rhode Island PBS in Rhode Island and southern Massachusetts on Sundays at 11 a.m. and is rebroadcast Thursdays at 7:30 p.m. An audio version of the program airs Saturdays at 8:30 a.m. & 10:30 p.m. ET and Sundays at 1:30 p.m. ET on SiriusXM's popular P.O.T.U.S. (Politics of the United States), channel 124.
Story in the Public Square is a partnership between the Pell Center and The Providence Journal. The initiative aims to study, celebrate, and tell stories that matter.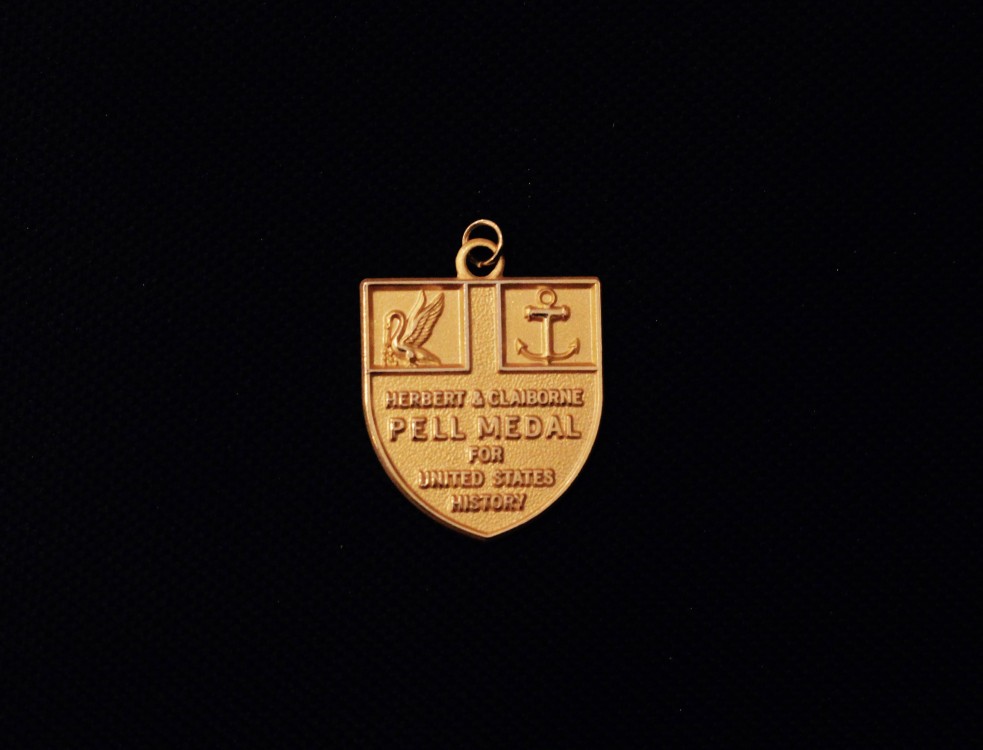 Newport, R.I.— 61 Rhode Island students earned the Herbert and Claiborne Pell Medal for U.S. History this year. The medal, originally presented by Senator Claiborne Pell and his wife, Mrs. Nuala Pell, recognizes college and high school students in the state who have excelled in U.S. History.
"It's important to recognize the spark that these students have for history, their exceptional dedication to their education and the great promise they show for the future," said Clay Pell. "I look forward to seeing them excel in the field."
"Russia's intervention in our election is a stark reminder that citizens in our republic must know their history and have a good understanding of civics," said Jim Ludes, Pell Center Executive Director.  "If we can encourage and celebrate that in Rhode Island's schools, then I'm confident that we are making good on the legacy Senator Pell left us and protecting the future at the same time."
Established by the Pell family, the Pell Medal is named for Representative Herbert C. Pell and his son, Senator Claiborne Pell. Herbert Pell served as a member of Congress and American Minister to Portugal and Hungary, while Claiborne Pell, who is responsible for the creation of the Pell Grants and the National Endowment for the Humanities, served in the Senate for 36 years and worked to strengthen American foreign policy.
The winners of the 2017 Herbert and Claiborne Pell Medal for excellence in the study of U.S. History are:
Barrington
James Coffey, St. Andrew's School
Mikaela Boone, Barrington High School
Bristol
Ashley Tatum, Mt. Hope High School
Danielle Bernier, Roger Williams University
Central Falls
Marcus Baptista, Central Falls High School
Coventry
Tyler Ferrara, Coventry High School
Cranston
Nathaniel Hardy, Cranston High School East
Cumberland
Connor Hayden, Cumberland High School
East Greenwhich
Laura Murphy, East Greenwich High School
Alec O'del, Rocky Hill School
East Providence
Yu Zhang, Providence Country Day School
Andrew Rogers, East Providence High School
Harrisville
Elizabeth Ethier, Burrillville High School
Johnston
Lindsey Frein, Johnston Senior High School
Kingston
Alexandra Goldsmith, University of Rhode Island
Lincoln
Angelo Landry, Lincoln High School
Patrick Carnaghan, William M. Davies Jr. Career & Technical High School
Middletown
Theodore Thibeault, Middletown High School
North Scituate
Jessica Sackal, Ponaganset High School
Narragansett
Amanda Carberry, Narragansett High School
Justin Ramirez, The Ocean Tides School
Newport
Juliana DiMeglio, Rogers High School
North Kingstown
Josh Neronha, North Kingstown High School
North Providence
Casey Silva, North Providence High School
North Smithfield
Jay Rumas, North Smithfield High School
Pawtucket
Miguelangel Tineo, Blackstone Academy Charter School
Daniel Sossa, Charles E. Shea Senior High School
Benjamin MacDonald, Saint Raphael Academy
Aaron Amaral, William E. Tolman High School
Portsmouth
Thomas Teravainen, Portsmouth Abbey School
Emma Rainier, Portsmouth High School
Providence
Leah Kazar, Brown University
Kate Marie Rodriguez, Central High School
Daniel Licht, Classical High School
John Larsen, La Salle Academy
Lily Martin, Lincoln School
Yara Doumani, Moses Brown School
Alex Veglia, Ocean Tides School
Edwin Lantigua, Paul Cuffee Upper School
Hugh Thomas Kilcommons, Providence College
Emma Lafleur, Rhode Island College
Isabelle Rose, Rhode Island School of Design
Destiney Fry-Daly, School One
Eleanor Sultana, The Wheeler School
Riverside
Amelia Larson, St. Mary Academy Bay View
Scituate
Connor Elias, Scituate High School
Smithfield
Dominic Ferrara, Bryant University
Simon Rees, Smithfield High School
South Kingstown
Braedon Kehoe, South Kingstown High School
Tiverton
Tova Ibbotson, Tiverton High School
Wakefield
Natalie Freeman, The Prout School
Warwick
William Provost, Bishop Hendrickson High School
Alicia Jones, Community College of Rhode Island
Alexandrea Pouliot, Pilgrim High School
Hannah Senerchia, Toll Gate High School
West Warwick
Elizabeth Pelletier, West Warwick High School
Westerly
Charles Vakassian, Westerly High School
Wood River Junction
Christian Sardelli, Chariho High School
Woonsocket
Keaton Bergeron, Beacon Charter High School for the Arts
Meghan O'Brien, Mount St. Charles Academy
Eden Suthowski, Woonsocket High School
Newport, R.I. – Pell Center Senior Fellow Iskander Rehman recently released his latest report, "India, China, and differing conceptions of the maritime order," through The Brookings Institution's Project on International Order and Strategy (IOS).
The law of the sea is one of the structural pillars of the international order. The complex rules and norms that govern freedom of navigation and maritime economic activity have played a crucial role in maintaining the global commons free from policies of enclosure, coercion and expropriation.
"Senator Claiborne Pell was long a champion of a rules-based international order," said Pell Center Executive Director Jim Ludes, "and he saw the Law of the Sea as a central pillar of that order. Dr. Rehman's study shines a light on the attitudes of two rising powers whose divergent views on the legal and customary basis for settling maritime disputes offers a glimpse into the future of the international system."
Drawing on the relevant strategic and legal literature, Dr. Rehman's report engages in a comparative analysis of India and China's attitudes towards the law of the sea. It charts the growing divergences—both normative and behavioral—between Asia's two great rising powers with regard to freedom of navigation and maritime territorial disputes. It concludes by analyzing the ramifications of these developments for the future of global stability.
Download the report here. View other international relations reports here.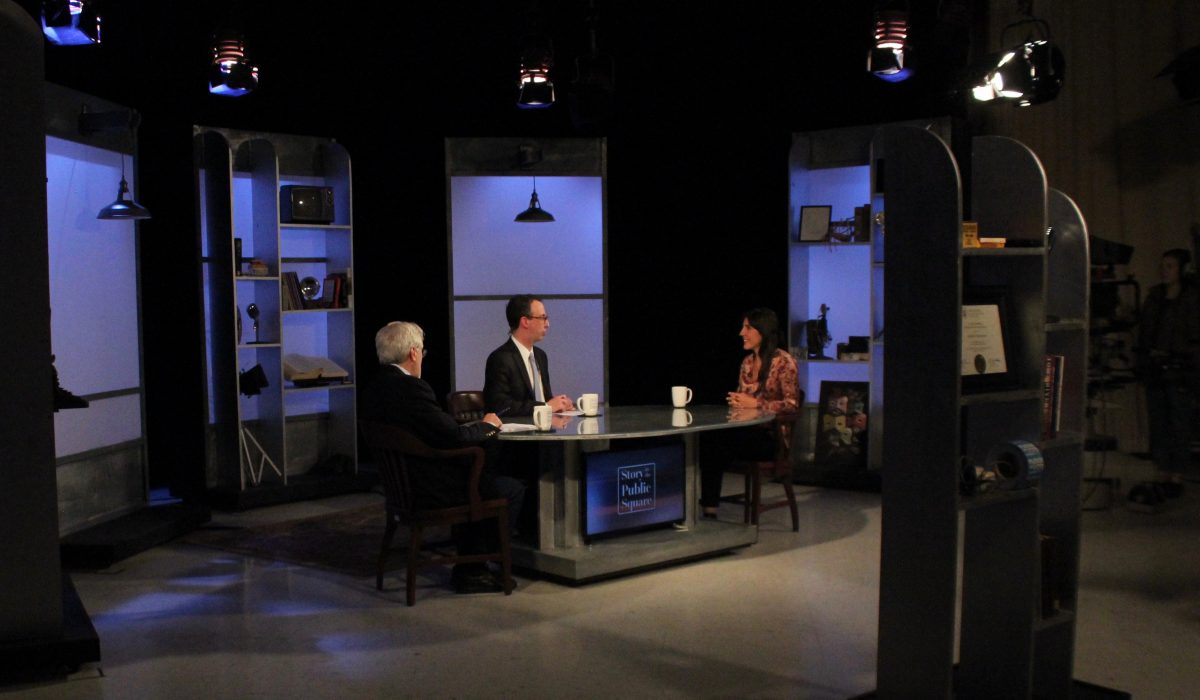 Each year, the Pell Center at Salve Regina University presents the Pell Center Prize for Story in the Public Square to a storyteller whose work makes a vital contribution to the public dialogue. This year, we honor Daphne Matziaraki, a documentary filmmaker who reminds us of our shared humanity.
Born and raised in Greece, Daphne Matziaraki holds a bachelor's degree in politics and sociology from the University of Bristol, United Kingdom; a master's in international relations from the University of Bristol; and a masters in journalism (documentary filmmaking) from the University of California, Berkeley. Matziaraki has worked as a radio, television and multi-media journalist in America and Greece. She lives now in the San Francisco Bay area.
Matziaraki directed, produced, photographed and edited "4.1 Miles," first published by The New York Times. The documentary was nominated for an Academy Award and won a Peabody Award, among other honors. "4.1 Miles" depicts a Hellenic Coast Guard captain and crew from the island of Lesbos who, against odds, undertake many missions to attempt to save thousands of children, women and men who are attempting to cross the Aegean Sea to Greece as the European migrant crisis unfolds. Shot in the tradition of cinéma vérité, its cinematography and graphic presentation of life-and-death drama distinguish the film.
"Story in the Public Square" airs on Rhode Island PBS in Rhode Island and southern Massachusetts on Sundays at 11 a.m. and is rebroadcast Thursdays at 7:30 p.m. An audio version of the program airs Saturdays at 8:30 a.m. & 10:30 p.m. ET and Sundays at 1:30 p.m. ET on SiriusXM's popular P.O.T.U.S. (Politics of the United States), channel 124.
Story in the Public Square is a partnership between the Pell Center and The Providence Journal. The initiative aims to study, celebrate, and tell stories that matter.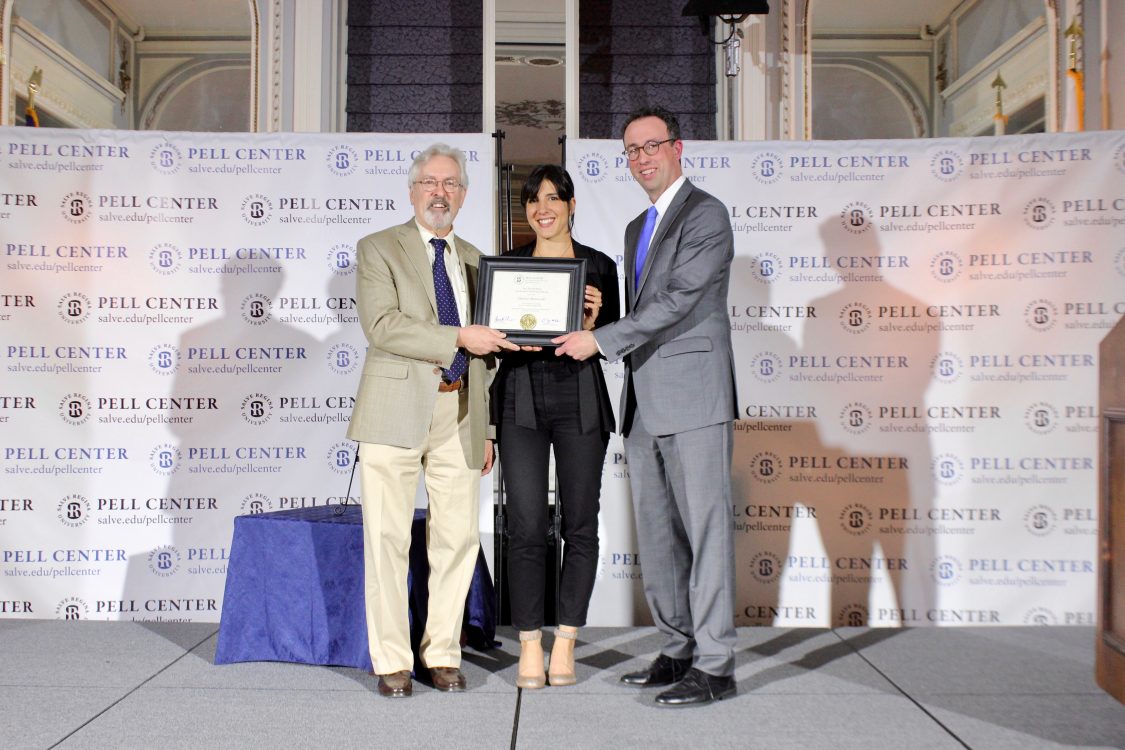 Newport, R.I. – Standing in front of a sold-out audience on June 5, 2017, documentary filmmaker Daphne Matziaraki accepted the 2017 Pell Center Prize for Story in the Public Square. The prize, awarded annually since 2013, honors a storyteller whose work has significantly influenced the public dialogue.
Matziaraki, whose short documentary "4.1 Miles" was nominated for an Academy Award, returned to her native Greece to capture footage of the refugee crisis on a Coast Guard boat off the island of Lesbos.
Screened in Newport, Rhode Island, the 21 minute and 20 second film played in front of an audience that largely had never been exposed to such a grave human crisis. Matziaraki drew parallels between coastal Lesbos, Greece, at the epicenter of her film and the flood of refugees escaping conflict by inflatable rafts and boats, and the seaside community of Newport, Rhode Island. "The only knowledge [the citizens of Lesbos] had of the situation was through the news, and suddenly the news came to their doorstep in such a violent way," said Matziaraki.
Lacking adequate supplies and proper training, the citizens nevertheless dropped everything to assist the refugees when they hit the shore – and Matziaraki was there to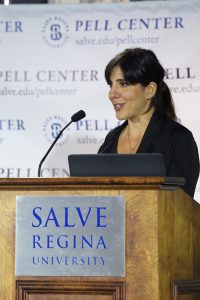 document it. "This big shipwreck happens and everyone from the village comes out to help, and religion doesn't matter, and political beliefs don't matter, because life and death is the same for all people, for all mothers, for all children."
Matziaraki explained to a misty-eyed audience that the film is not intended to be a call to action, and refused to endorse any particular relief organization: "I think it's up to every one of us to research and see where and how we would like to help." She repeatedly recognized the sacrifices that men and women, like Coast Guard captain Kyriakos Papadopoulos and his crew, make to save desperate refugees without adequate support, equipment or training.
In presenting the Pell Center prize for her meaningful contribution to public dialogue, Pell Center Executive Director Jim Ludes praised Matziaraki for the power of her work. "We feel empathy for the children and adults who are literally fleeing for their lives, at extreme risk of death," he said. "We feel these people's fears – and the hope that drives them. We admire the captain and his crew, who themselves face risk in saving strangers—and who challenge us to look within and ask what are we personally doing for the refugees in our world?"
G. Wayne Miller, director of the Story in the Public Square initiative and a journalist with The Providence Journal, celebrated the film. "It connects on the deepest level, on a very deep emotional level, which is really where change can begin," he said. "You have to feel this, you have to experience this in your heart, and I think we did."
Matziaraki previously reported from humanitarian emergencies in Africa and Europe, and now lives in the San Francisco bay area. On June 24, 2017, she will be a featured guest on "Story in the Public Square," the Pell Center's public affairs radio and television show. "Story in the Public Square" airs weekly on SiriusXM P.O.T.U.S. (channel 124) as well as Rhode Island PBS.
Founded in 2012, Story in the Public Square is an initiative to celebrate, study and tell stories that matter. A partnership of the Pell Center and The Providence Journal, the program sponsors public seminars and discussions, annually names a local and national story of the year, and is guided by a culturally and creatively diverse Story Board.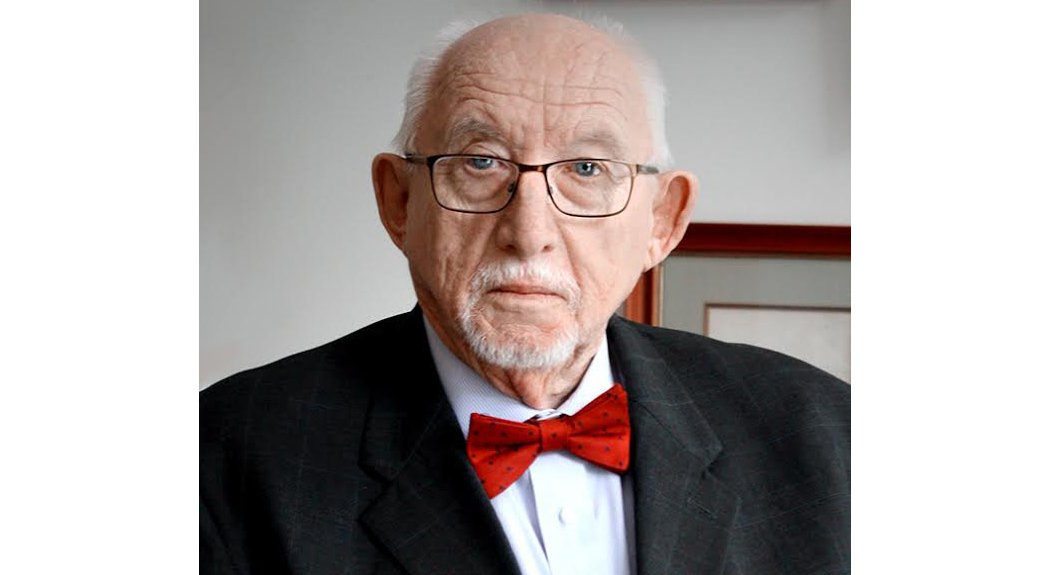 Newport, R.I – The Pell Center at Salve Regina University has named Llewellyn King, an accomplished journalist, columnist, and host as well as executive producer of "White House Chronicle," as its newest Adjunct Senior Fellow.
"White House Chronicle," now in its 20th year, blends King's sharp wit and keen insights about politics and policy into a weekly look at public affairs. It was groundbreaking television when it first aired, and continues to illuminate the public dialogue.  "White House Chronicle" can be seen nationwide on 200 PBS and public, educational, and government (PEG) cable access television stations, and the commercial AMGTV Network. The program also airs worldwide on the Voice of America and can be heard each weekend on SiriusXM's P.O.T.U.S. Channel 124.
As a veteran journalist, and columnist—whose weekly column is distributed by the InsideSources syndicate—King has built a reputation for real expertise on his native continent of Africa, the energy industry, international politics, and, of course, American politics. His articles have appeared in Time, the BBC, The Washington Post, and more. A collection of King's op-ed columns and commentaries titled, "Washington and the World – 2001-2005," was published in 2006.
King was the founder of "The Energy Daily," the flagship newsletter of his award-winning King Publishing Group.  The group's other publications included "Defense Week," "New Technology Week," "Navy News & Undersea Technology," and "White House Weekly."  King Publishing Group was sold in 2006.
"Llewellyn King's accomplishments as a journalist speak for themselves," said Pell Center Executive Director Jim Ludes. "Very rare is the journalist who has been invited to lecture to America's best energy scientists at Los Alamos National Laboratory, but that's who Llewellyn King is. We look forward to tapping that expertise for programs and opportunities at the Pell Center."
Ludes also expressed gratitude for King's support in the development of "Story in the Public Square," the public affairs program produced by the Pell Center. "I met Llewellyn a couple of years ago when he invited me to appear on 'White House Chronicle,'" said Ludes. "We became fast friends, and Llewellyn and his wife Linda Gasparello mentored our efforts to create a 'Story in the Public Square' show for broadcast at a critical moment in our development. They gave us advice and encouragement, and they gave us air time on their own show. We learned so much from them, and we're grateful."