The Pell Center at Salve Regina University announced the addition of international relations expert Derek B. Miller as an adjunct senior fellow.  Miller, a Boston, Massachusetts native, is the founder and Director of The Policy Lab and has worked in international affairs with the United Nations, several foreign governments, and think tanks for over twenty years. He studied at Georgetown (MA, National Security Studies), Oxford (St. Catherine's College and Linacre), The Graduate Institute of International Studies in Geneva (diplome des études superior, D.E.S.) and the University of Geneva (Ph.D. in international relations).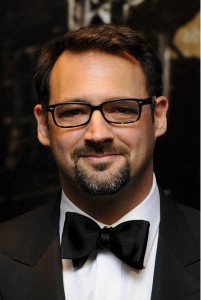 Pell Center Executive Director Jim Ludes praised Miller's addition: "I've known Derek since we were both graduate students at Georgetown and I joined his effort to start a journal that would go on to shape important debates in the defense community in the 1990s. He's part visionary, part doer, part scholar, and part poet. We look forward to the many contributions he will make to the Pell Center in the years ahead."
Miller's specialties include international security affairs; Iraq and U.S. policy theory; public policy and planning; UN affairs; and humanitarian affairs and international development.
Miller is also an acclaimed and prize-winning novelist whose debut novel, Norwegian by Night (2013), won the CWA John Creasy Dagger and was published in fifteen languages. Norwegian by Night was the Read Across Rhode Island selection in 2015 when Miller visited Rhode Island from his home in Oslo, Norway, where he lives with his wife and two children. The Girl in Green, his second novel, was published this year.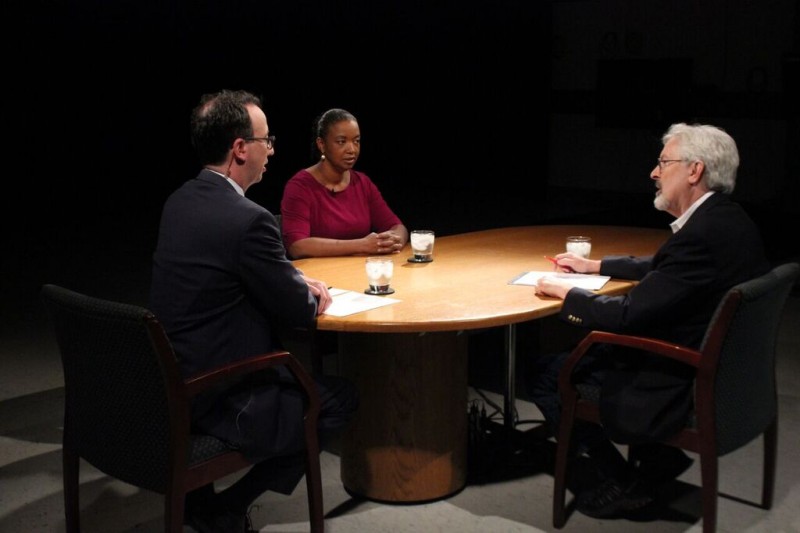 This weekend, "White House Chronicle: Story in the Public Square" hosts Jim Ludes and G. Wayne Miller welcome ESPN's Raina Kelley to the show. Kelley is the managing editor of ESPN's new site, The Undefeated, a content initiative focused on the intersection of sports, race and culture. The site features in-depth reporting, commentary and insight on race and culture through the lens of sports.
Kelley delves into the tensions and conversations that led to the founding of theundefeated.com.
"Sports plays such a huge role in American society, but it's more than games," said Ludes. "Sports can often be the starting point for conversations about race and identity and meritocracy—issues that are front and center in our public life. I found it remarkable to learn of ESPN's investment in The Undefeated, but, as Raina makes clear in our interview, this is a real commitment by ESPN to long-form journalism about stories that matter."
"White House Chronicle" airs nationwide on some 200 PBS and public, educational and governmental (PEG) access stations; and worldwide on Voice of America Television and Radio. An audio version of the program airs four times every weekend on SiriusXM Radio's popular POTUS (Politics of the United States), Channel 124: Saturdays at 8 a.m. and 5:30 p.m. ET, and Sundays at 1 a.m. and 4:30 p.m. ET.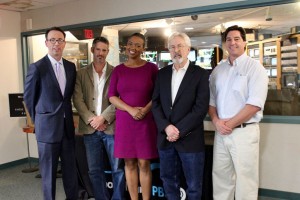 In Rhode Island and southern Massachusetts, the program airs Sundays at 11:30 a.m. on Rhode Island PBS, Digital 36.1, and other carriers; and 7 p.m. Sunday on PBS Learn, Digital 36.2, and other carriers.
Story in the Public Square is a partnership of The Pell Center at Salve Regina University and the Providence Journal.
Locally, the broadcast will be aired on Sunday, August 7, 2016 at 11:30 a.m. on Rhode Island PBS (WSBE).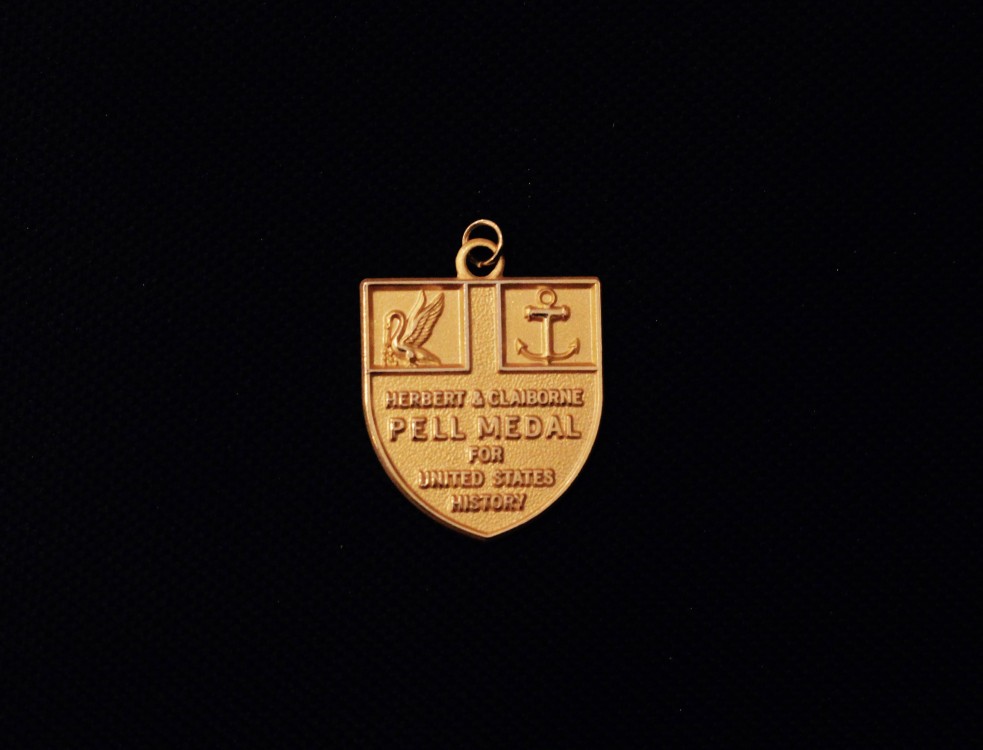 Newport, R.I.— 61 Rhode Island students earned the Herbert and Claiborne Pell Medal for U.S. History this year. The medal, originally presented by Senator Claiborne Pell and his wife, Mrs. Nuala Pell, recognizes college and high school students in the state who have excelled in U.S. History.
"The students in Rhode Island continue to earn well-deserved recognition for their exceptional dedication to U.S. history," said Clay Pell. "It has long been a goal of my family to learn from the past and prepare for the future."
"Understanding our history is critical to the health of our republic," said Pell Center Executive Director Dr. Jim Ludes. "The Pell Center is proud to continue honoring those Rhode Island students who have excelled in the study of American history."
Established by the Pell family, the Pell Medal is named for Representative Herbert C. Pell and his son, Senator Claiborne Pell. Herbert Pell served as a member of Congress and American Minister to Portugal and Hungary, while Claiborne Pell, who is responsible for the creation of the Pell Grants and the National Endowment for the Humanities, served in the Senate for 36 years and worked to strengthen American foreign policy.
The winners of the 2016 Herbert and Claiborne Pell Medal for excellence in the study of U.S. History are:
Barrington
Dagoberto Nunez, St. Andrew's School
Morgan Brown, Barrington High School
Bristol
Caroline Roohr, Roger Williams University
Sarah Ricks, Mt. Hope High School
Central Falls
Christopher Fontes, Central Falls High School
Coventry
Hannah Sheldon, Coventry High School
Cranston
Miya Lohmeier, Cranston High School East
Cumberland
Sean Bradley, Cumberland High School
East Greenwich
Anessa Petteruti, Rocky Hill School
Eitan Vilker, East Greenwich High School
East Providence
Nicholas Guarino, East Providence High School
Lucy Ehrlich, Providence Country Day School
Esmond
Liam Garvey, Smithfield High School
Harrisville
Antonio Rua, Burrillville High School
Johnston
Davina Phouthakoun, Johnston Senior High School
Kingston
Jacob Marrocco, University of Rhode Island
Lincoln
Michael J. Matkowski, Lincoln High School
Leonidez Lorenzo, William M. Davies Jr. Career and Technical High School
Middletown
Carlos Vasquez, Middletown High School
Eva Killenberg, St. George's School
Narragansett
Marissa McPhillips, Narragansett High School
Jonathan Lehourites, Middlebridge School
Newport
Brooke Warner, Paul W. Crowley East Bay MET School
Abby Wasylean, Rogers High School
North Kingstown
Jacob Maguire, North Kingstown High School
North Providence
Hannah Grivers, North Providence High School
North Scituate
Kyle Corry, Ponaganset High School
North Smithfield
Eric Ethier, North Smithfield High School
Pawtucket
Patience Adegboyega, Charles E. Shea Senior High School
Zachary Wyllie, William E. Tolman High School
Jeidy Par, Blackstone Academy Charter School
Portsmouth
Madeline Hobbs, Portsmouth High School
Johanna Appleton, Portsmouth Abbey
Providence
Emily Fisher, Rhode Island College
Margareth Cruz, Central High School
Tyler Stein, Providence College
Heather McLeod, Rhode Island School of Design
Michelle Johnson, Brown University
Allison Paul, La Salle Academy
Samuel Martinez, Classical High School
Seth Antoch, School One
Jessica March, Lincoln School
Ping Promrat, The Wheeler School
Edwin Lantigua, Paul Cuffee Upper School
Riverside
Jamie Tebeau, St. Mary Academy Bay View
Scituate
Nicolas Pezzullo, Scituate High School
Smithfield
Kurt Deion, Bryant University
Wakefield
Matthew Marasco, The Prout School
Rosalind Lucier, South Kingstown High School
Warwick
Max Hempe, Bishop Hendricken High School
Brandon Lawton, Pilgrim High School
Thao Pham, Warwick Veterans Memorial High School
Lindsay Russell, Toll Gate High School
John Cuthbertson, Community College of Rhode Island
West Greenwich
Hillary Gallagher, Exeter West Greenwich High School
West Warwick
Alec Charon, West Warwick High School
Westerly
Joseph Brodeur, Westerly High School
Wood River Junction
Marissa Alfiero, Chariho Regional High School
Woonsocket
John Montani, Mount Saint Charles Academy
Katyanna Colburn, Beacon Charter High School for the Arts
Lilia Merbouche, Woonsocket High School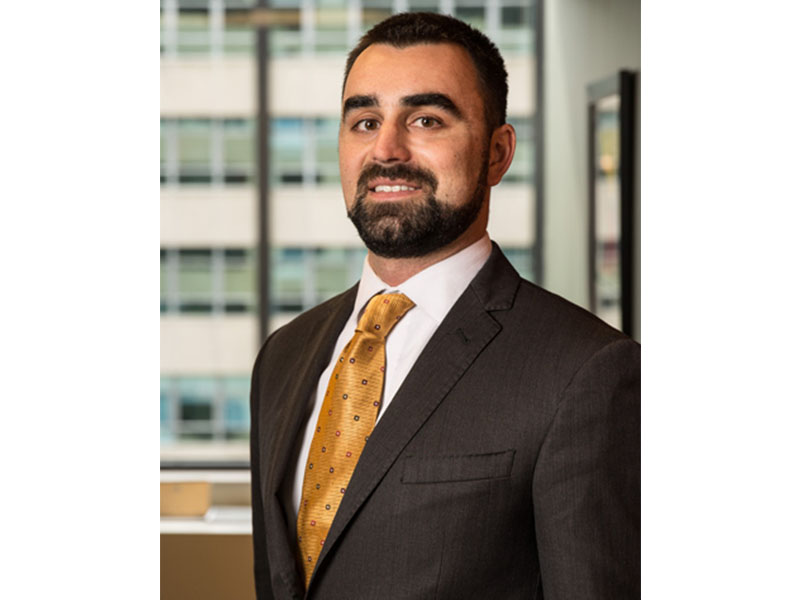 Newport, R.I. – The Pell Center at Salve Regina University welcomes Dr. Iskander Rehman as a resident senior fellow specializing in international relations.
Dr. Rehman comes to Newport from the Brookings Institution in Washington, D.C. where he served as a visiting fellow in the International Order and Strategy Program. Previously, Dr. Rehman served as a fellow at the Center for Strategic and Budgetary Assessments in Washington, D.C., an associate and Stanton Nuclear fellow at the Carnegie Endowment for International Peace in Washington, D.C., a visiting fellow at the Observer Research Center in New Delhi, a research fellow at the Transatlantic Academy of the German Marshall Fund in Washington, D.C., and a visiting fellow at the Institute for Defense Studies and Analyses in New Delhi.
"I'm thrilled to be joining the Pell Center. Senator Pell's vision for international relations was one based on openness, regional expertise, and diplomatic engagement. I look forward to helping further his vision at the Pell Center and to working alongside the Salve Regina community," said Dr. Rehman.
"We are delighted to have someone with Iskander's background and expertise join us at the Pell Center" said Executive Director Jim Ludes.  "Asian security issues are likely to dominate the twenty-first century," he continued, "and we're lucky to have someone join us with real expertise in a region that is home not just to the world's largest country by population, but also the world's largest democracy, vast natural resources, and tremendous economic potential as well as poverty, conflict, and human rights issues."
Fluent in both English and French, Dr. Rehman received his BA, Masters of Science, and PhD in Political Science from the Institute of Political Sciences (Sciences PO) in Paris, France. His previous research has explored the relationship between China and India, Australia's contributions to Asian security, nuclear issues, and the wide range of Asian territorial disputes.  His work has been published by the Naval War College Review, Asian Security, and The National Interest, among many other outlets.
"It's remarkable to find a scholar of international relations at this point in his career with the diverse and deep expertise that Dr. Rehman has," said Ludes.  "We expect him to make an immediate difference in the research we're doing on global issues and to make a meaningful contribution to the students at Salve Regina University, too.  We're lucky to have him."
The Pell Center for International Relations and Public Policy at Salve Regina University is a multi-disciplinary research center—or think-tank—focused at the intersection of politics, policies, and ideas.  Other initiatives include cybersecurity, leadership, and Story in the Public Square.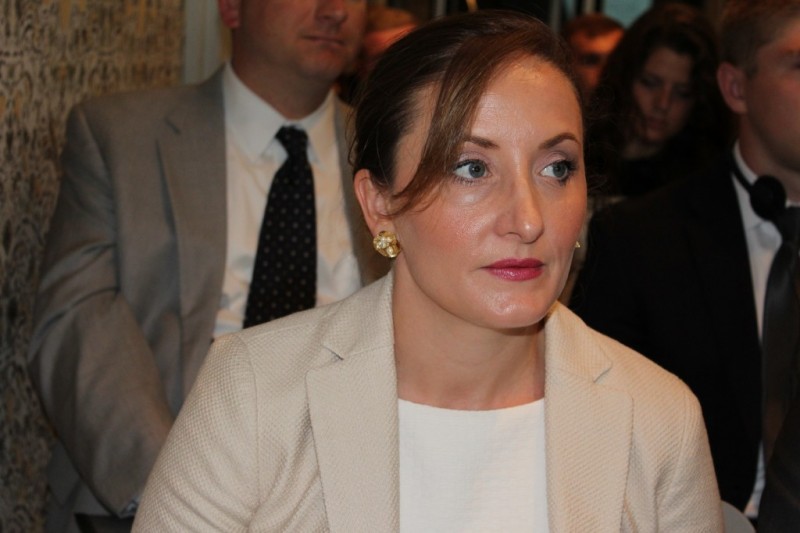 Newport, R.I. — Pell Center Senior Fellow Francesca Spidalieri spent the month of June traveling throughout Europe and the Middle East to speak at three different international conferences on cybersecurity and to engage with world-renowned experts and policy-makers shaping the future of Internet governance and security.  Spidalieri shares her account of the trip:
Capitalizing on the research carried out in the past year on cyber leadership development and countries' cyber preparedness and resilience, I eagerly participated in multiple international engagements on cybersecurity-related topics and shared insights and lessons learned from the field.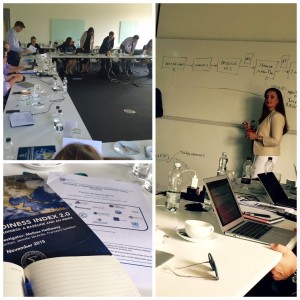 I first visited Oxford, UK for a two-day workshop with representatives of major international organizations, including the International Telecommunication Union (ITU), the United Nations Conference on Trade and Development (UNCTAD), the World Bank, the Organization for Economic Co-operation and Development (OECD), European Network and Information Security Agency (ENISA), the Commonwealth Telecommunications Organizations (CTO), the Potomac Institute for Policy Studies (PIPS), and others. These organizations are working in tandem to develop a National Cybersecurity Strategy (NCS) Reference Guide meant to help countries around the world elaborate, implement, or further enhance their respective national cybersecurity strategies. This document will be a key resource for countries to gain a clear understanding of what the purpose and content of a national cybersecurity strategy should be, and will outline relevant models—such as the Cyber Readiness Index 2.0 (CRI) I have been working on—available to governments to enhance cybersecurity and protect critical information infrastructures essential to their national security and economic well-being.
After the United Kingdom, I traveled to Rome, Italy to participate in the first-ever Conference on "Cyber Strategy and National Security," co-sponsored by Moire Consulting and the Pell Center. The invitation-only event was attended by government representatives, diplomats, selected journalists, subject-matter experts, and a delegation of midshipmen and instructors from the US Naval Academy. This was one of the first times in which the Italian government publicly discussed some of its most ambitious efforts—including the creation of an Italian Cyber Command—to defend Italy's critical infrastructures and sensitive information from cyber threats emanating from state and non-state actors. On this occasion, I had the privilege of representing both my native country—Italy—and my adopted country—the United States—and to help building bridges between the two.  In addition, I had the opportunity to discuss one of my most recent Pell Center studies on the role that US service academies play in developing a pipeline of qualified cyber strategic military leaders, and share findings and lessons learned with Italian representatives.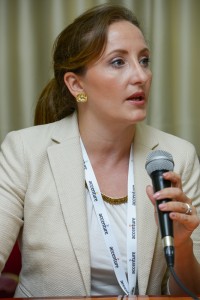 I then headed to Tel Aviv, Israel to take part in the 6th Annual International Cybersecurity Conference, also known as Cyber Week, organized by the Tel Aviv University's Blavatnik Interdisciplinary Cyber Research Center, the Israeli National Cyber Bureau, and Israel's Ministry of Foreign Affairs. The annual event brings together cybersecurity professionals from Israel and around the world to meet with policymakers, entrepreneurs, investors, and academics to discuss cyber threats facing the international community and the latest advances in cyber technology. This year, the program focused on the impact of cyber threats on commerce, technology, economy, academia, defense, and diplomacy, and included lectures, a start-up competition, workshops, and roundtables.  On the first day of the conference, I delivered a presentation on the "Global Cyber Readiness Index," a methodology specifically designed to evaluate countries' maturity and commitment to securing their national cyber infrastructures and services upon which their digital future and growth depend. The panel discussion that followed provided an opportunity for policymakers, subject-matter experts, and diplomats in the audience to weigh in and engage in a lively discussion on the economic erosion caused by cyber insecurity.
In short—what an incredible journey through half of the world! Even though all of these engagements show how far the international community has gone in combating cybercrime and other malicious cyber activities and in establishing international norms of conduct in cyberspace, they also continued to confirm that much still remains to be done in the years ahead.
I look forward to continuing to participate in these important discussions and use my research at the Pell Center to raise awareness about systemic problems and actionable solutions in this field. – Francesca Spidalieri, Senior Fellow for Cyber Leadership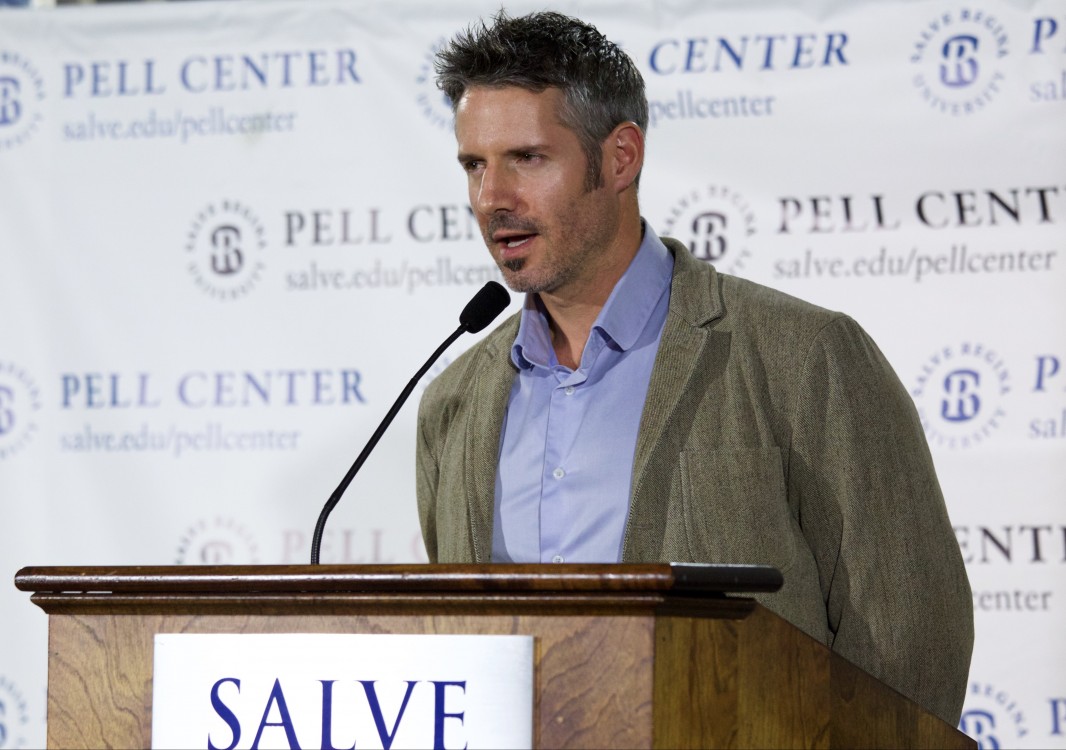 Newport, R.I. – One day in Aleppo, Syria, in 2012, Javier Manzano was in a car driving along a road.  He found himself in one of the world's most dangerous places because he is a photojournalist and there was a story to tell.
As they drove, he saw the road in front of him erupt as a Syrian Air Force bomb detonated.  His car screeched to a halt and as the driver tried to reverse course, a second explosion detonated 40-50 meters to his rear- igniting the car behind him and killing everyone inside it.
Fearing that the planes would soon return to strafe the road with cannon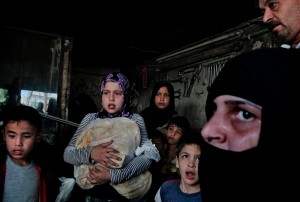 fire, Manzano and his fellow travelers scampered to safety, ducking into a former welding shop where women and children huddled, clutching loaves of bread they had just stood in line to receive.  The picture he snapped in that moment tells a story—a young Syrian girl, the look of anguished worry clear in her eyes, the bread she had been waiting for held close.
This is the face of the Syrian civil war and we know it in the west because people like Javier Manzano are willing to risk their lives to tell the stories of those who can't.
* * *
On June 21, Manzano was honored with the 2016 Pell Center Prize for Story in the Public Square. The prize honors a storyteller whose work has significantly influenced the public dialogue. Previous winners are Pulitzer Prize winning-journalist Dana Priest (2013), Emmy-winning screenwriter Danny Strong (2014), and best-selling author Lisa Genova (2015).
Sitting in Newport, RI, the afternoon before receiving the Pell Center prize, Manzano described candidly the emotions his work provokes in himself.  "I'm pretty angry," he says.  "You see these things, you report on these things, you show the world, but somewhere over the Atlantic the story gets lost and policies don't change."
Javier Manzano's personal story began in Mexico where he was born to an American mother and Mexican father.  After college and graduate school, he began work as a photographer for the Rocky Mountain News before that paper ceased publication.  When it folded, Manzano drove to the Mexican border and began working as a freelance photographer documenting the drug and gang violence along the Rio Grande border between the United States and Mexico.  Sleeping in his own car, showering at a local Y, and developing local relationships, Manzano honed his craft and documented the bloody violence of a local police force engaged in conflict with a ruthless drug gang.
Since then, Manzano has worked in Syria, Iraq, Afghanistan, Libya and Nigeria, among other countries, where he has captured the carnage of war and the best and worst of humanity.
During his time in Syria, Manzano captured a haunting image of two Syrian rebels in their fighting position in an abandoned building.  Shrapnel holes in the metal screen on the front of the building yielded fingers of light piercing the darkness.  Manzano captured the image on his camera and sold it as a freelancer to Agence France Presse for $150.  Months later, the image he captured earned Manzano rightful recognition with the 2013 Pulitzer Prize for Feature Photography.  Manzano was the first freelance photographer to be recognized with the award in 17 years.
* * *
At the reception that follows the presentation of the Pell Center Prize, Manzano is given the rock-star treatment.  Audience members clamber for the opportunity to ask him a question.  He responds patiently to every question—though most ask the same question over and over.  "Is it dangerous?"  "Are you a target?"  "Why do you accept so much risk?"
In his remarks, Manzano had stressed the difficulties that freelance journalists face when they travel to cover conflict stories. "It's a commitment that you have because there's no other way to keep going." There are days, he admits, when he doesn't want to go back out, doesn't want to don the Kevlar body armor that is as vital to his work as are his cameras.  "It's what journalism is about, it's about telling stories," he says, "that is your job… Sometimes it is not pleasant. Sometimes you don't want to go out there, you don't want to go to visit a front line."
He cautions against freelance journalists simply buying a plane ticket and following a story; instead, Manzano advises his younger colleagues to properly prepare themselves with medical supplies, body protection, and training.  A number of charities now support preparing journalists and photographers for service in combat zones—something that could have saved lives earlier in the War on Terror.
While freelance journalists face a myriad of challenges, it can be an advantage to have the flexibility to stay in a certain place for longer periods of time than staff journalists. Manzano prefers to make residence in close proximity to where his stories are based. Projects have taken him to Afghanistan, Syria, Mexico, and Turkey for years at a time.
"It gives you a greater understanding of what the situation really is, so you can translate that to your audience… in imperfect terms, because I am not Syrian, I am not Iraqi, I am a white man with some khaki pants and multiple pockets, telling you what the story is," said Manzano.
* * *
In presenting the fourth Pell Center Prize to Manzano, Pell Center Executive Director Jim Ludes heralded the photographer's role in shining a light in the dark corners.
"This evening, we put our own humble stamp of endorsement on Javier Manzano," Ludes said.  "In the most dangerous locations, often amidst death and destruction, he bears witness for all of us.  In the unblinking eye of his camera, he has captured courage and fear, desperation and hope, valor, death, horror, and even love.  He is an accomplished storyteller, in the truest sense of the word, who deepens our humanity by sharing stories that we might wish we didn't have to know.  But, stories that, as citizens of this planet, we must know.  And because of Javier Manzano and his work, we do."
Manzano acknowledged the gravity of his work.
"There is a message that someone still wants to tell you from inside Syria. Do not forget about us," he told the audience.  "[T]he vast majority of the casualties of war are civilians that couldn't get out in time or they're just stuck, they have no choice, and you question 'Why am I doing this if I don't see any change across the pond, across the Atlantic?'"  He continued, "It makes our job very hard to justify until someone you're photographing pulls you back and tells you 'Photograph my son, and photograph my pain, photograph me."
Senator Claiborne Pell believed it was important that we speak for those who cannot, or dare not, speak.  The same spirit animates the work of Javier Manzano. He finished, "I wish we could give [their loved ones] back to them, but the most we can offer is that their voice is going to be heard somewhere."
A partnership between the Pell Center at Salve Regina University and The Providence Journal, Story in the Public Square is an initiative to study, celebrate, and tell stories that matter.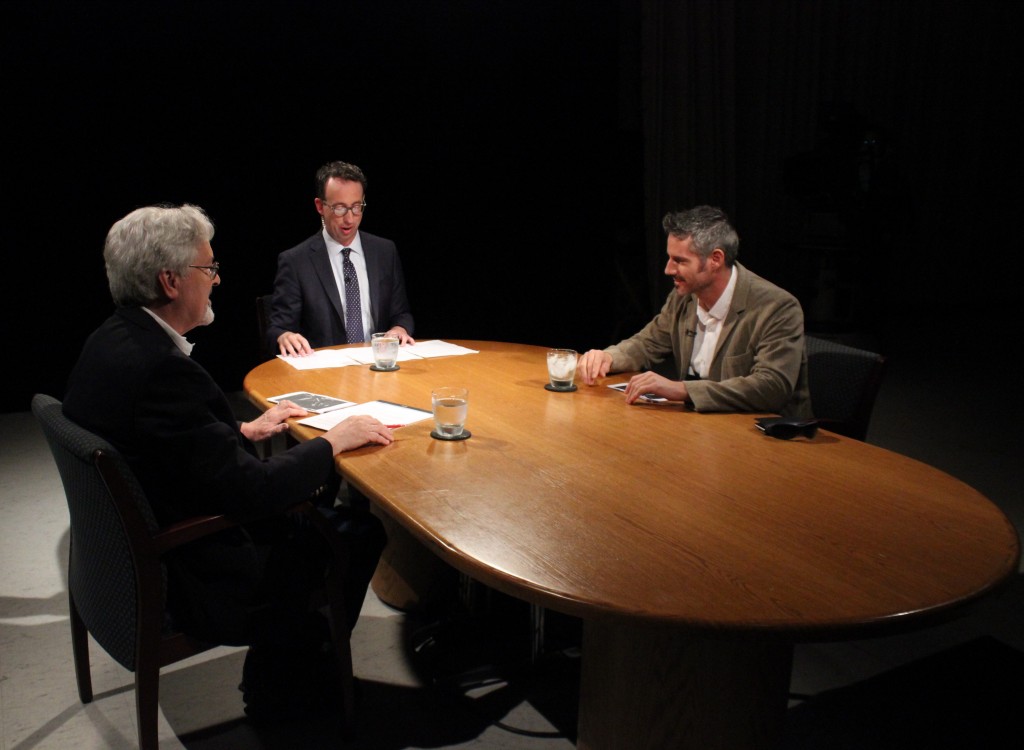 Pulitzer Prize-winning photographer and documentary filmmaker Javier Manzano, who recently received the Pell Center Prize for Story in the Public Square, will be featured this week on "White House Chronicle: Story in the Public Square."
Manzano captures the stories of people all over the world, from American workers who built nuclear weapons for the Cold War to fighters in the Syrian civil war. He won the 2013 Pulitzer Prize for Feature Photography for his photo, distributed through Agence France-Presse, of Syrian rebel soldiers guarding their position as light streams through bullet holes in a wall.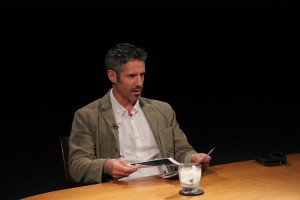 "Javier Manzano is a storyteller with real insight into some of the world's most pressing problems.  Our conversation with him reflects what he witnessed for all of us in Syria and other war zones.  It's a compelling episode." said G. Wayne Miller, director of Story in the Public Square.
"White House Chronicle" airs nationwide on some 200 PBS and public, educational and governmental (PEG) access stations; and worldwide on Voice of America Television and Radio. An audio version of the program airs four times weekends on SiriusXM Radio's popular POTUS (Politics of the United States), Channel 124: Saturdays at 8 a.m. and 5:30 p.m. ET, and Sundays at 1 a.m. and 4:30 p.m. ET.
In Rhode Island and southern Massachusetts, the program airs Sundays at 11:30 a.m. on Rhode Island PBS, Digital 36.1, and other carriers; and 7 p.m. Sunday on PBS Learn, Digital 36.2, and other carriers.
Story in the Public Square is a partnership of The Pell Center at Salve Regina University and the Providence Journal. Ludes is executive director of The Pell Center and Journal Staff Writer Miller directs the Story in the Public Square program.
Locally, the broadcast will be aired on Sunday, July 10, 2016 at 11:30 a.m. on Rhode Island PBS (WSBE).
Read more about the 2016 Pell Center Prize for Story in the Public Square.
See Javier's work here.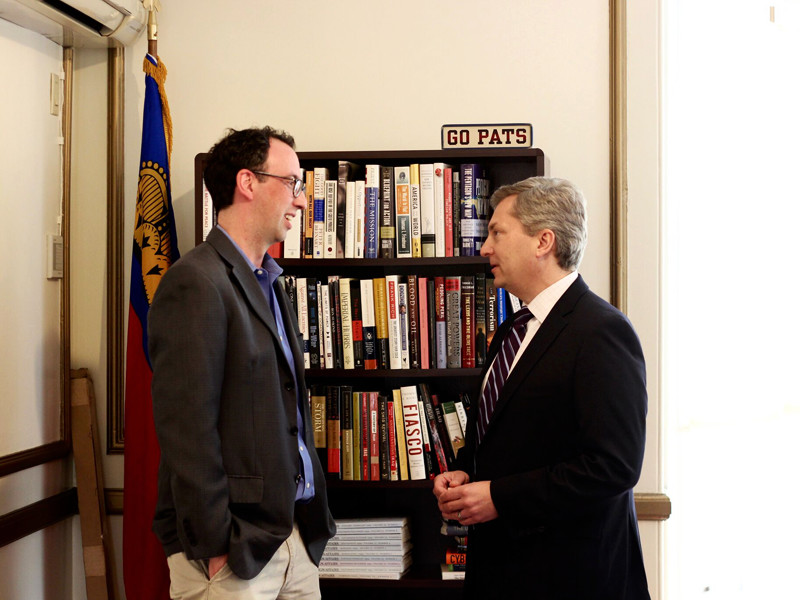 The Pell Center's newest adjunct fellow, Scott Bates, joins Jim Ludes for a wide-ranging conversation about politics, international relations, and so much more.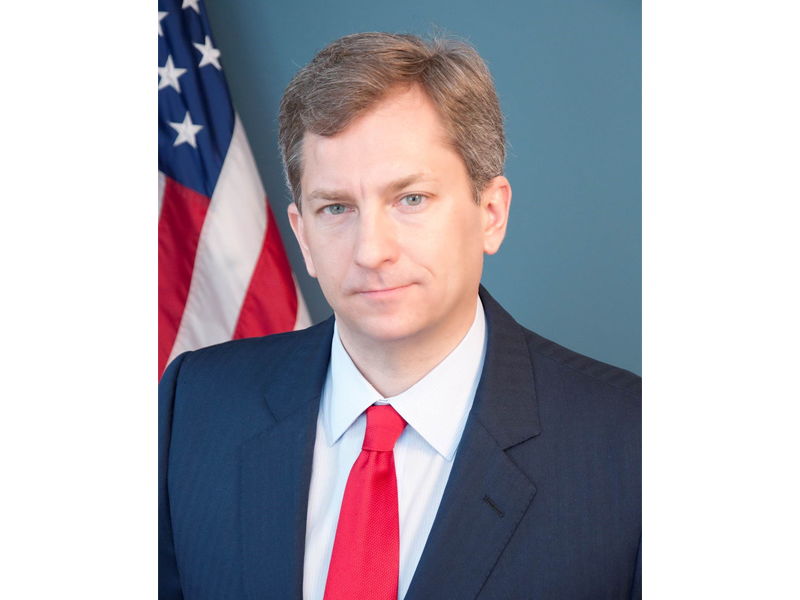 Newport, R.I. – The Pell Center at Salve Regina University announced the addition of Scott Bates, an experienced student and practitioner of U.S. foreign policy, as an adjunct fellow. Bates, of Stonington, Connecticut, brings to the Pell Center a diverse background in international relations, politics, and on-the-ground experience in America's war zones.  He also serves as Executive Director of the Connecticut Institute for the 21st Century (CT21).
"Scott Bates is a leader whose courage and intellect have made him singularly effective," said Pell Center Executive Director Jim Ludes. "There once was a time," Ludes continued, "when a commitment to democratic values abroad meant a commitment to progress at home.  Scott Bates—in his professional undertakings and his personal commitments—is the embodiment of that ideal. We're thrilled to have him join the Pell Center."
Bates' career has seen him serve in a wide variety of local, state, federal, and international positions. In American government, Bates served as Secretary of State and Legislative Director for the Governor of Virginia where he was responsible for development and passage of the governor's legislative agenda.  After 9/11, Scott served as the first Senior Policy Advisor to the U.S. House of Representatives Homeland Security Committee. He has worked with leaders and activists to support governing institutions and democratic development in Iraq, Afghanistan, Kosovo, Bosnia, Haiti, and throughout the Middle East. Bates has been a featured speaker on defense issues and international affairs. His areas of expertise include homeland security, counterterrorism, and U.S. foreign policy in the Middle East, Asia, and Eastern Europe.
Bates has been a senior lecturer at University of Tokyo, as well as a visiting professor at the University of Indiana School of Law, Connecticut College, and the University of Pristina in Kosovo. Among his career highlights, Bates served as President of the Center for National Policy and as Senior Advisor for the Truman National Security Project.
The Pell Center for International Relations and Public Policy is a think-tank on the campus of Salve Regina University focused at the intersection of politics, policies, and ideas.
To listen to Scott Bates' podcast, click here.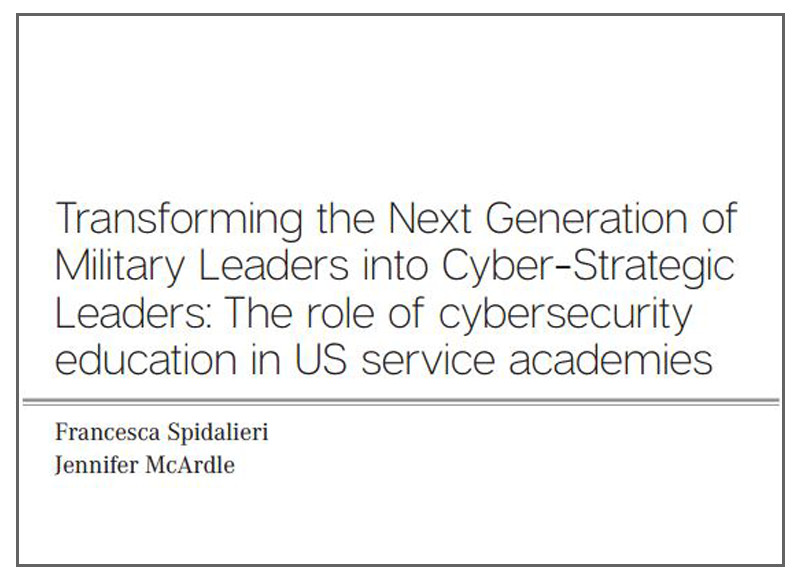 Newport, R.I. – The Army Cyber Institute at West Point recently published their inaugural print edition of The Cyber Defense Review (CDR) with contributions from Pell Center Senior Fellow for Cyber Leadership, Francesca Spidalieri. Spidalieri co-authored a chapter of the magazine entitled, "Transforming the Next Generation of Military leaders into Cyber-Strategic Leaders: The Role of Cybersecurity Education in US Service Academies."
Her study addresses the role that US service academies play in developing not only specialized cyber forces, but especially a pipeline of qualified cyber strategic military leaders. As Spidalieri noted: "Today, no modern military can enter the battlespace without some reliance on cyberspace. In the future, every military leader will have to also be a cyber strategic leader."
The article surveys current efforts by the US Coast Guard Academy, the US Air Force Academy, the US Military Academy, and the US Naval Academy to prepare all future officers for the challenges of operational- and strategic-level cyber threats. The survey Spidalieri carried out over the course of several months provides an overview of the level of exposure cadets and midshipman receive to cyber issues and to what extent they graduate with an adequate understanding of the cyber challenges facing their respective services. In addition, the article identifies some of the gaps in current curricula and offers preliminary recommendations to include a stronger cybersecurity component into existing programs at US service academies.
The full article, "Transforming the Next Generation of Military Leaders into Cyber-Strategic Leaders: The role of cybersecurity education in the US service academies," can be downloaded here.
The Cyber Defense Review magazine can be downloaded here.