In light of the tragedy that occurred in Charleston, South Carolina on Wednesday night, it is difficult not to look once more at the gun control policies currently in place in the US.
What happened?
If you haven't heard, on Wednesday June 17, 2015 a young male entered Emanuel African Methodist Episcopal Church in Charleston, SC, during an evening prayer meeting. He attended the meeting for close to an hour, before taking out a concealed gun and opening fire. The man killed 9 people, including the pastor, Reverend Clementa C. Pinckney, and injuring one other.
Police proceeded with the investigation as they would a hate crime and began a search for the shooter, who remained at large after leaving the church. On Thursday June 18, 2015 a suspect was taken into custody and has been identified as Dylann Storm Roof, 21.
On Friday June 19, 2015 it was released that Roof admitted to being the shooter and that he committed this crime 'to start a race war'. Family and friends of the victims, as well as the Charleston community at large are left heartbroken.
This tragedy is not the first
Unfortunately, dealing with the aftermath of a tragic shooting is not a new situation for the US.
The number of active shooter events has grown over the last few years. An article in The Independent refers to an FBI study on active shootings between 2000 and 2013. The report indicates that in the first seven years of the study, there was an average of 6.4 active shootings per year. And the last seven years of the study found that there was an average of 16.4 shootings per year.  That number is more than double the average of the previous years and includes recent mass shootings such as the Sandy Hook Elementary School shooting in Newtown, Conn.
After the events at Sandy Hook, many people began to think seriously about the gun control laws in this country. But as the shock, horror and news coverage of the event died down, so too did the interest in policy change.
Reopening discourse on gun control
With the events in Charleston, and the general and undeniable rise in gun-related deaths over the past few years, there is hope that the discussion surrounding gun control will make its way back onto the table.
President Obama, in his official remarks about the event in Charleston, indicates that he is in favor of this.
"At some point, we as a country will have to reckon with the fact that this type of mass violence does not happen in other advanced countries. It doesn't happen in other places with this kind of frequency… It'd be wrong for us not to acknowledge it, and at some point, it's going to be important for the American to come to grips with it and for us to be able to shift how we think about the issue of gun violence collectively," — President Barack Obama on Thursday, June 18 2015 – via The Washington Post
Will talking about, or changing, gun control laws affect the rising number of active shooter incidents?
It is difficult to say whether stricter control over firearms in the US will lessen the number of tragedies that appear in our news.
However, the article in The Independent mentioned a study that looks at the correlation between gun restrictions and the number of deaths by firearms by state. The study, conducted in 2011 by economist Richard Florida, found that states with at least one gun restriction (including assault weapons' bans, trigger locks, and safe storage requirements) have fewer firearm deaths.
(Note: In this study and correlating chart, the deaths counted are not limited to active shootings and include other incidents such as suicides, acts of self-defense and accidental deaths by firearm)
While this data only indicates a correlation, it is suggestive that firearm restrictions may be able to help the growing problem in this nation.
The details discussed in this post are just a few basic facts regarding gun control. There are many strong and varied opinions on this subject and the national debate, if it begins, will be a long one. More studies will be conducted and other factors will need to be taken into account before a consensus can begin to be drawn, but hopefully this post reminds readers that the issue of gun control remains unresolved in the US.
As President Obama stated in his address regarding Charleston, guns affect us as a nation and are something to be thought of collectively, not just by our policymakers. With time, the tragedy that occurred in Charleston need not be solely remembered as a senseless loss of life if it sparks a renewed debate about gun control in the US.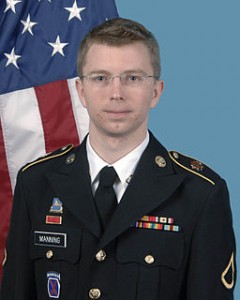 Bradley Manning is the young man behind the largest leak of classified government information in U.S. history.
Three years ago, U.S. Army Pfc. Manning shared three quarters of a million pages of protected war logs, communications and videos to WikiLeaks. The information maelstrom included the widely viewed 'Collateral Murder' video, which shows classified footage from a U.S. helicopter that opened fire on civilians in Iraq, who were mistaken for insurgents at the time. Manning discovered these files through his work as an intelligence analyst in Baghdad.
WikiLeaks published almost everything in 2010, citing an anonymous source. WikiLeaks have never confirmed that Manning was that source, but his name was given to the authorities by a former hacker and journalist, Adrian Lamo, whom Manning spoke with about his plans.
Arrested on May 27, 2010, Manning has since had 22 charges filed against him by the military, including violations of the Uniform Code of Military Justice and the Espionage Act. After pleading guilty to various lesser charges in early February 2013, Manning pleaded not guilty in the aid of U.S. enemies and faces a possible life sentence.
His trial began on June 3rd, 2013 with Army Col. Denise Lind presiding as judge, and the verdict was announced on July 30th, 2013:
Manning was found not guilty of aiding the enemy and of sharing information with the intent to harm the U.S.
He was found guilty on 20 other charges (The judge accepted only two of his 10 pleas on the lesser charges.)
What this means is that Manning still faces years, even decades in prison. His maximum possible sentence is 136 years. The sentencing portion of his trial began on July 31st, 2013 and has not yet been disclosed.
Read more about Manning's verdict.
Even though PRISM is now out in the open, there are still many more surveillance programs collecting private information and communications without the owner's knowledge or permission.  Over the past few weeks many of these programs have also come under a new light following Snowden's big reveal. Here are a few government programs like PRISM that we should be aware of.
PRISM – Allows government analysts to legally access data from 9 major Internet companies, including Google, Facebook, Microsoft, Yahoo, AOL and Apple. This data includes, but is not limited to: email, chat, videos, photos, file transfers, notifications (login, etc), and social networking details.
Source: Washington Post
Upstream – First revealed on one of the leaked NSA slides that also included PRISM, Upstream refers to a broad surveillance of fiber-optic cables.  These networks criss-cross the globe and are the highways of the World Wide Web. They transmit all online data from telecommunication systems, including data from internet connected phones, through light pulses and electrical signals.
The United States and their allies are capable of monitoring Internet activity at various 'gateways' spread out across the cables, collecting data as it passes through them. This is different from the 'downstream' model of PRISM, which gathers data from specific technology companies (i.e. Google, etc).  
Tempora – Britain's Government Communications Headquarters (GCHQ) undersea surveillance program has made them an intelligence superpower.  The 18 month old Tempora taps the fiber optic cables traversing the oceans surrounding Europe and the Americas.  These cables carry roughly 99% of all international communications – including email, telephone calls, browser history, and social media sites.
Like NSA's Upstream, GCHQ taps into these cables at certain checkpoints. What makes Tempora standout is the innovation that allows data collectors to store massive amounts of fiber optic data for up to 30 days, allowing a formidable amount of time for the data to be analyzed and shared. GCHQ is known to share this data with the NSA.
Boundless Informant –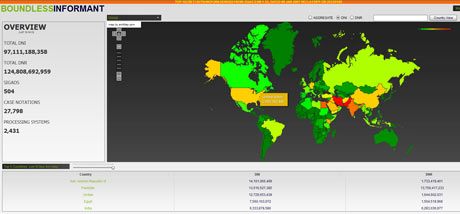 Source: The Guardian
This technology is a tool of the NSA's that tracks and analyzes where they are receiving their metadata from.  It counts, categorizes, maps, and analyzes the billions of piece of information flowing into the NSA from all over the globe.   Once organized, an analyst could select any country on a map and see the intelligence collection as well as select details about that country and the information collected there.  According to documents unearthed by The Guardian, Boundless Informant can pinpoint the metadata down to specific IP addresses.
Right now Snowden is playing the waiting game. The infamous NSA leaker partnered with WikiLeaks and filed for asylum in 21 different countries.  Currently camped in the transit area of Moscow's Sheremetyevo International Airport, Snowden hopes to find a more permanent refuge from the espionage charges the United States have set on him. Here are the results of his efforts so far:
Update:
8/1/2013
Snowden has been granted temporary asylum in Russia. He is allowed to remain there for up to one year. WikiLeaks posted that Snowden safely left Sheremetyevo in the company of WikiLeaks' Sarah Harrison.
Update:
7/8/2013
Snowden officially accepts asylum from President Maduro of Venezuela. Now the next question is, how will the fugitive travel from Moscow to Caracas?
7/5/2013
Venezuela, Nicaragua, and Bolivia formally extend asylum to Snowden.
Cuba says they will support Snowden and consider offering asylum.
——–
Also, although unconfirmed, WikiLeaks has rumored that Snowden filed for asylum in six more countries, but that they are keeping them a secret for fear of "attempted U.S. interference."
| | |
| --- | --- |
| Country | Response |
| RUSSIA | Snowden filed for asylum but then withdrew the request after President Vladimir Putin stated that Snowden would have to "stop his work aimed at harming our American partners"2 in order to stay. |
| INDIA | Denied his request |
| CHINA | Have not received an official request. |
| AUSTRIA | Requst not valid; applicants must reside in Austria and submit their requests in person. |
| BOLIVIA* | President Evo Morales said he was willing to offer asylum. |
| BRAZIL | Denied his request. |
| CUBA* | Will support Snowden but has not yet offered official asylum. |
| ECUADOR | President Rafael Correa considered the request and stated that Snowden would have to reach Ecuadorian territory for it to go any further. U.S. Vice President Joe Biden asked Ecuador to deny Snowden's request. |
| FINLAND | Do not consider his written request an official application, which must be filed inside Finnish territory. |
| FRANCE | Has not received "any demands from Mr. Snowden" – President Hollande.1 |
| GERMANY | Asylum requests must be made from within the country but that there is small a possibility of acceptance from abroad. |
| ICELAND | Asylum seeker must submit a request from an Icelandic territory. |
| IRELAND | Denied confirmation that they had received a request. Irish law does require that asylum applicants reach the country's borders before being considered. |
| ITALY | Asylum seeker must submit his request from an Italian territory or border. |
| THE NETHERLANDS | Asylum seeker must submit his request from Holland. |
| NICARAGUA* | Will support Snowden and offered him asylum. |
| NORWAY | Asylum seekers typically must file their request from inside the country. |
| POLAND | Denied his request. |
| SPAIN | Asylum seeker must submit his request from Spain or on its borders. |
| SWITZERLAND | Asylum seekers must submit his request from Swiss soil. |
| VENEZUELA* | President Nicolas Maduro said he was willing to offer asylum and that Snowden deserved protection. Waiting on confirmation of Snowden's acceptance. |
What do you think will or should happen to Edward Snowden?
Main Sources:
http://au.ibtimes.com/articles/487797/20130709/snowden-asylum-wikileaks-latin-america-bolivia-venezuela.htm