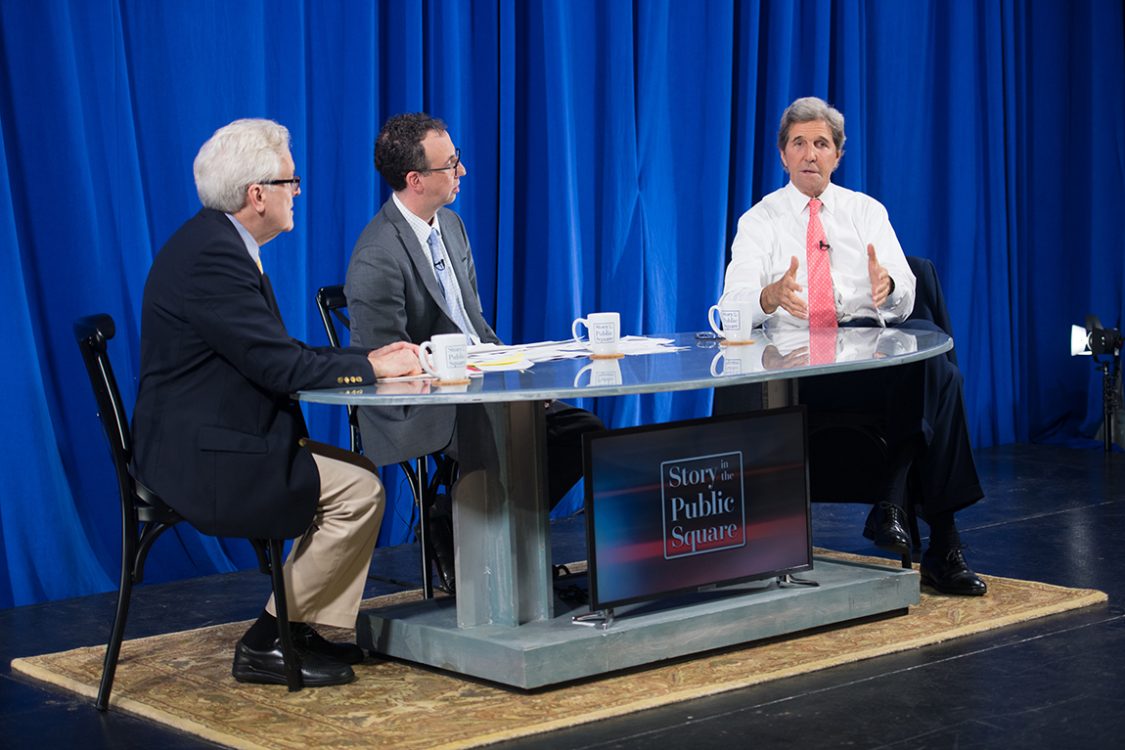 Air Dates: October 27-29, 2018
Over the last five decades, the United States has fought wars, worked for peace, achieved environmental breakthroughs, and struggled to pass on security—however, you might define that – to the next generation. More often, than not, you would have found guest, John Kerry in the middle of those fights.
John Kerry is a visiting distinguished statesman at the Carnegie Endowment for International Peace, where he will focus on conflict resolution and global environmental challenges. He is also a distinguished fellow for global affairs at Yale University.
On February 1, 2013, Kerry was sworn in as the 68th secretary of state of the United States. He became the first sitting U.S. secretary of state to meet with Iran's foreign minister since the Iranian revolution. This meeting was the highest-level U.S. diplomatic contact with Iran in more than six years. Kerry was also a key architect of the Paris Climate Accord, signing the historic agreement to reduce carbon emissions in 2016.
Prior to being nominated and sworn in as secretary of state, Kerry served for more than twenty-five years as a U.S. senator from Massachusetts. He eventually served on the Senate Foreign Relations Committee as chairman.
In 2004, he was his party's nominee for President, losing to incumbent President George W. Bush.
Shortly before he graduated from Yale University, Kerry volunteered for service in the United States Navy. He completed two tours of duty in Vietnam, after which he began a lifelong fight for his fellow veterans as a co-founder of the Vietnam Veterans of America.
His new candid memoir, Every Day is Extra, published by Simon and Schuster on September 4, 2018, is now a New York Times Bestseller.
"Story in the Public Square" airs on Rhode Island PBS in Rhode Island and southern Massachusetts on Sundays at 11 a.m. and is rebroadcast Thursdays at 7:30 p.m. An audio version of the program airs Saturdays at 8:30 a.m. & 7:30 p.m. ET, Sundays at 5:30 a.m. ET, and Mondays at 12:30 a.m. ET on SiriusXM's popular P.O.T.U.S. (Politics of the United States), channel 124. "Story in the Public Square" is a partnership between the Pell Center and The Providence Journal. The initiative aims to study, celebrate and tell stories that matter.
Related Posts