The big questions in public policy today are too often viewed from just one national perspective. Yet, many of the challenges facing the United States today are not unique to this country. The Pell Center project on global challenges examines difficult public issues from an international perspective. Through studies and events, we explore issues in health care, education, aging, criminal justice and more in order to understand how other modern, industrial societies deal with the same critical challenges. In understanding the global response to these issues, we may find lessons for American policy makers. At minimum, we'll deepen the understanding of our shared human experience.
International Relations Reports
A Himalayan Challenge: India's Conventional Deterrent and the Role of Special Operations Forces Along the Sino-Indian Border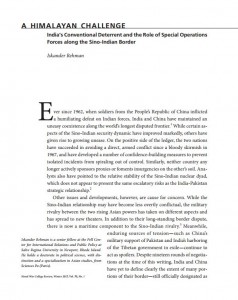 Author: Iskander Rehman
Dr. Rehman's article aims to give a clearer picture of the security dynamic along the Sino-Indian border. It draws on field trips to the Himalayan border states of Sikkim, Himachal Pradesh, and Jammu and Kashmir as well as close to thirty interviews with intelligence officials and Indian Army (IA) and special forces officers, both serving and retired.
The article lays out the operational benefits to be accrued from the tailored employment of Indian special operations forces in a number of potential conflict contingencies along the Sino-Indian border. While warning against an overreliance on special operators,  it argues strongly in favor of a better integration in-between Indian special and general purpose forces.
Download the article here.
Find the Winter 2017 Naval War College Review here.