Campaign 2012
October 16, 2012 7:30 PM
Bazarsky Lecture Hall – O'Hare Academic Center
Salve Regina University
Ochre Point Avenue (at the intersection with Shepard Avenue)
Newport, RI
RSVP to [email protected] or call (401) 341-2927
7:30 PM Lecture:
Faithful Citizenship in a Partisan World
with Peter Steinfels, Ph.D.
(co-sponsored by the Religious & Theological Studies Department and Mercy Center)
Since the 1970s, Catholics have been urged by church leaders to be "faithful citizens" and to shape the nation's future by making moral choices in voting.  People of faith should bring their moral convictions into public life – and into the voting booth.  This requires more than blind partisan loyalties or simple self-interest.  It requires carefully formed consciences, courage and, as the Catholic bishops declare, "the virtue of prudence."  But citizenship doesn't begin and end on Election Day.  Morality means more than many people assume.  And prudence often leaves them confused.  How can we make sense of these crucially important ideas amid the clamor of campaigns, the blitz of negative ads, and the fog and fireworks of political spin?
Peter Steinfels is an author, educator and journalist.  Formerly a senior religion correspondent at the New York Times, he created and continued to write "Beliefs," a biweekly column on religion and ethics until 2010. Dr. Steinfels and his wife, Margaret O'Brien Steinfels, founded and co-directed the Fordham Center on Religion and Culture from 2004-2012 at Fordham University, where he is a university professor.
followed by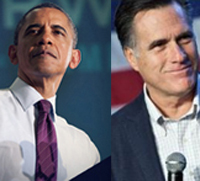 9:00 PM The Rematch:
OBAMA vs ROMNEY II
Will President Obama be able to rebound from what was widely viewed as a disastrous first debate?  Or will Governor Romney maintain his momentum?  Settle in with some popcorn and watch the debate with your Pell Center friends.
Ten days ago, I had the good fortune of moderating a panel at the Association of Opinion Journalists in Orlando, Florida.  The topic my colleagues and I were supposed to address was Climate and the Environment.  As I prepared my remarks, I couldn't help but think about how lacking the public debate has been on substantive issues for the last two months.  Sure, there's been a lot of coverage of the horse race that is presidential politics–but talk about being light on the issues!
The two people I shared the panel with were remarkably qualified.  Andrew Holland of the American Security Project is a recognized thought-leader on environmental, energy, and climate issues.  Peter Pritchard is the "Godfather of Turtles," and has been a Time magazine "Hero of the Planet."
So here is an excerpt of my opening remarks.  It was one person's plea that we ought to be talking about big issues–not the small stuff that dominates the coverage.
Begin Excerpt:
. . . . I've been asked to say just a few words to tee up the issues and then turn it over to my colleagues who will really depress you.
I kid.
I make light of a very serious set of issues.  Why?  Because it's so serious, and at times it seems like no one is listening.
Like no one is paying attention as the environment around us changes.  As species that have survived for millennia slip into extinction.  As the science becomes clearer by the day.  As the evidence mounts daily—clear for everyone to see—that the climate is changing with potentially catastrophic consequences for life on this planet.
Over at the University of Central Florida later today, Congressman Paul Ryan will be speaking at a campaign rally.  What do you think the odds are that he will mention the environment?  Do you think he will be asked about climate change?
This is a candidate who two years ago suggested scientists were attempting to "intentionally mislead the public" about climate change.  He was of course referring to the so-called "Climate-Gate" emails.  But he of course has since made no reference to investigations from Penn State University in the United States, The University of East Anglia in Britain, the British House of Commons, the American National Science Foundation and the EPA—each of whom concluded that "Climate Gate" does not alter our understanding of what is happening in the Earth's climate.
In fact, the case for climate change—and human induced or anthropomorphic—climate change has only gotten stronger.
Let me give you a couple of examples:
Researchers at Oxford University in the United Kingdom predict a 2.5 to 5.4 degree rise in global temperatures by mid-century—that's a larger and faster increase than the 2007 Intergovernmental Panel on Climate Change—and most others—have predicted.[1]
In the Arctic, sea ice is disappearing, with new record ice loss seeming to arrive each year—and the general consensus emerging that the IPCC was too conservative in its projects about the rate of melt as well as the risk of sea level rise.[2]

This summer, sea ice collapsed to 1.32 million square miles, just 24% of the surface of the Arctic Ocean.  The previous low, set in 2007, was 29%.[3]
In 2007, the UN Climate Panel predicted sea ice would disappear in Arctic summers by mid-century.  Now experts believe it could be 2015 or 2016.
All manner of life on this planet is under stress.  There have been five great mass extinctions over the past 540 million years.  In each of those events, 75% or more of all species disappeared over the course of a few million years. Now scientists at UC Berkeley warn that humanity may be ushering in a sixth mass extinction.  Writing in the journal Nature, they reported last year that the current rate of extinctions far exceeds the historical norm, and should that rate continue, we will experience a sixth extinction in the next few centuries or millennia.  They drew special attention on the role of climate change, and conceded their conclusions may underestimate the impact of climate change on mass extinctions.  Yet they also had to concede that, in general, it is difficult to link the fate of any one species to changes in the Earth's climate.[4]
Let's be clear, plants and animals are adapting to climate by moving.  In 2003, researchers from the University and Texas and Wesleyan University found that the 1700 species they studied were "moving, on average 3.8 miles per decade toward the poles.  Animals and plants were also moving up mountain slopes."[5]
And the phenomena is global.  In 2005, adult butterflies in Melbourne Australia, emerged from their pupae 1.5 days earlier each decade over previous 65 years.  Further laboratory observations linked this acceleration in development to warmer temperatures.
These are a staggering set of issues, global in scale, and yet not on the agenda for debate in 2012.  And that's a disgrace.  Whatever you believe, personally, about climate science, this is a conversation we need to have as a nation—and the two parties come at the issue in fundamentally different ways.
Let me just point to one more piece of Congressman Ryan's record:  in 2011, Congressman Ryan voted for an amendment to prohibit the Department of Agriculture from studying how to adapt to climate change.
Ladies and gentlemen, are we really that confident that we don't even want to be THINKING about what adaptation might look like for America's farmers?
In 2011, in my last few months as Executive Director of the American Security Project, we released a 50 state assessment of what climate change will cost the citizens of each state in the Union when their communities and economies are ultimately affected by climate change.  Our thought was—well, everyone can point to the cost of action.  What's the cost of inaction?
The numbers will break your heart because they dwarf, by a lot, the projected cost of the most recent comprehensive climate and energy legislation presented to Congress a couple of years ago.  Make no mistake about it, we're going to pay for climate change—it's just a matter of how much and when.
That's the conversation we need to have six weeks before election day, here in Orlando and around the country.  I hope someone has the opportunity to ask Congressman Ryan about it when he's at UCF today.
But in this hall this morning, we are fortunate to have two great speakers ready to share the truth they know.
[1] Doyle Rice, "Study: Global Temperatures could rise 5 degrees by 2050," USA Today, March 25, 2012.
On Wednesday, August 1, the Pell Center and Newport CIV jointly hosted an evening conversation with two prominent experts on the course of the war in Afghanistan.  Dr. Bernard Finel of the National War College and Dr. Mark Jacobson of the German Marshall Fund of the United States engaged an audience of more than 100 people with assessments of where we stand after nearly 11 years of fighting.
America's war in Afghanistan began weeks after the al Qaeda attacks of September 11, 2001. Within weeks, the Taliban had been routed. But for more than a decade since, American forces have been engaged in a difficult and violent process to create a state, defeat insurgents, and leave a stable Afghanistan behind.
President Barack Obama campaigned for president on the idea of leaving Iraq to focus on Afghanistan, and the signature of this refocusing was a surge of U.S. forces into Afghanistan with the purpose of creating the security conditions for the eventual withdrawal of U.S. forces in 2014.But questions remain. Did the United States need a "surge" to achieve its policy goals in Afghanistan? What has been achieved in the last decade, plus, of fighting? How ready are Afghanistan's forces to protect their own security? How can we assess U.S. policy in Afghanistan today?
One of the highlights of the event was the use of electronic surveys to poll audience members about specific policy choices in Afghanistan.  Examples of the responses are posted here. The feedback was terrific.  Audience members valued the opportunity to provide instant feedback and the speakers were intrigued by what the audience had to say.
FOR IMMEDIATE RELEASE: Newport, RI—To mark the 40th anniversary of the Pell Grant, Dr. Jim Ludes, executive director of the Pell Center at Salve Regina University, issued the following statement:
Forty years ago, in the middle of the Nixon Administration, the United States Congress created Basic Educational Opportunity Grants, later renamed Pell Grants.  This bipartisan investment in America's young has provided a remarkable return on its investment.
The Pell Grant opened the door to college for millions of Americans who otherwise would not have been able to afford an education.  It has helped to grow the ranks of the middle class, to strengthen our society and to provide greater economic opportunity to millions.  Pell Grants stand as a reminder of the opportunity that can be created when Democrats and Republicans work together, and they are an enduring testament to the vision and leadership of Senator Claiborne Pell.
A Pell Grant today covers only a fraction of the cost of a four-year public education.  It is frequently under assault from those who see it as an example of big government.  But those who were able to afford college because of a Pell Grant know the truth: the Pell Grant is a national resource.  Its recipients have made America stronger, and that is why we celebrate it today.
 #   #   #
Former New York Senator Daniel Patrick Moynihan once famously quipped: "Everyone is entitled to his own opinion, but not his own facts."
If only it were so simple.
New research and events demonstrate that facts, science, and evidence don't really matter when we're discussing controversial issues—even if the controversy is engineered.
A recent letter in the journal Nature examines the relationship between science literacy and the perception of risk from climate change.  Surprisingly, the researchers conclude that:
Members of the public with the highest degrees of science literacy and technical reasoning capacity were not the most concerned about climate change.  Rather, they were the one among whom cultural polarization was greatest.
The up-shot?
As worthwhile as it would be, simply improving the clarity of scientific information will not dispel public conflict so long as the climate change debate continues to feature cultural meanings that divide citizens of opposing world views.
The letter itself is very much intended for a professional audience, but it makes for fascinating reading, especially set against the news from North Carolina where Republican legislators insist on using historic trends to assess sea level rise, when the science predicts accelerated rise.  (They were unfairly criticized in some places for "outlawing" sea-level rise.)
The divide comes down to this:  if you accept the scientific predictions about rising seas and begin to plan for adaptation now (mitigation no longer being an option), then the cost will be significant and we'll have to start paying it now.  But if you insist on waiting for evidence of acceleration before beginning to adapt, then enduring costs and to coast lines, property, and economies will be even worse.
This is the essence of Pay Now/Pay Later—a research project we launched in my last year at the American Security Project.  We examined the cost of doing nothing but adapt to climate change in all 50 states.  Yes, we had to make assumptions about projections and impacts, but they are well within the bounds of established science.  And the conclusions were stark: every state in the union will suffer economically from climate change.
But to accept that conclusion, you have to accept that science, imperfect as it might be, has predictive value.  We're not talking about certainty.  This isn't metaphysics, it's science.  And models, based on our understanding of how climate works, are the best tools we have to deal with a phenomenon that is changing our world.
A few quick hits before the weekend and next week's healthcare conference.
Faith and Politics: Demonstrating the principles we discussed at the most recent roundtable lunch, Congressman Paul Ryan took on the social-justice teachings of the Catholic Church this week and revealed that "Cafeteria Catholicism" is a bipartisan practice.
Climate Change: New data and analysis reveals that some Antarctic ice sheets are melting from underneath.  It's 2012, could we have a real debate about climate?
Iranian Nukes: Is Iran building a nuclear bomb?  That's the question we explored with David Albright a couple of weeks ago.  Now the head of Israeli Defense Forces has weighed in, too.  He doesn't think so—and that paints an interesting picture of the dynamics leading up to the next round of international negotiations in May.
I just returned from the Pell Center round-table with Professor Dan Cowdin on the role of God in American politics.  It was a lively conversation that affirmed just how intimately intertwined are issues of faith, identity, and public values.
As the conversation ensued, we made reference to several texts from American history.  I've linked to each below.
President John F. Kennedy's Address to the Greater Houston Ministerial Association (1960)
Rev. Martin Luther King, Jr.'s Letter from a Birmingham Jail (1963)
Governor Mitt Romney on Faith in America (2007)
President Abraham Lincoln's Second Inaugural Address (1865)
The contrast between Kennedy and Romney is provocative.  Where both tried to assuage concerns over their respective faiths, Romney also lamented the decline of religion in the public square.  They provide snapshots of the relationship between faith and politics at two points in time–the differences marked by decline in the authority of mainline Protestant churches and the rise of evangelical Christians aligned with the politics of the Republican party over issues of life.
In King's letter we find an eloquent justification, on religious and moral grounds, for civil disobedience–a polite way of saying "law-breaking."
And in Lincoln's address, the man who saved the Union sees in the Civil War a great moral cleansing of divine purpose.
Regardless of where you come down on the role that faith and God should play in American politics, these documents provide much for us all to consider as we head into the political season.
In 2004, I was working as a legislative assistant in the U.S. Senate when I came across a story about a grievously wounded soldier from Northern Virginia and his devoted parents who refused to give up on him.
The soldier is Jay Briseno.  An Army reservist, he deployed to Iraq in 2003 and was shot in the back of his neck, severing his spinal cord.  In the course of surgeries trying to save his life, Jay suffered multiple cardiac arrests and severe brain damage.
He has been called the most severely wounded soldier to survive the war, and will likely be dependent on others for his care for the rest of his life.
Someone, I read, told Mr. and Mrs. Briseno that they should institutionalize their son and, in essence, prepare for him to die.
That person didn't know Joseph and Eva Marie Briseno, their love for their son, or their faith.  He didn't know Jay, either.
The Brisenos upended their lives to care for their son.  They brought him home to familiar surroundings. Because Jay needed 24 hour nursing care—something the VA did not provide—they moved the mattress from their bed into the basement where Jay's hospital bed lay so they could attend to him throughout the night.  Both parents were ultimately forced to quit their jobs so they could care for their son, and, in the process, become champions for the needs of disabled veterans.
I've been on Mr. Briseno's email distribution list since 2004.  To this day, I continue to receive periodic updates about Jay's progress, requests for prayers when things are rough, and news about other members of the Briseno family.  I treasure each and every note.  They are a window into the life of a remarkable group of American heroes—one of whom was wounded in Baghdad.
Since those early days, it seems as though the support of the community has made some things better for the Brisenos.  The VA provides more care, local businesses and charities have stepped up to help modify the Briseno home to better serve Jay,  and Jay, himself, has endured countless procedures to keep him stable and to improve his quality of life.
But now, almost a decade after his wounding, Jay is still dependent on his Mom and Dad.  They continue to care for him.  They will always love him.
I learned today that the Brisenos have been selected as one of six finalists for the Pentagon Federal Credit Union Foundation's "Hero at Home Video Contest."  The public is going to decide the winner based on the number of "Likes" their video gets on YouTube by noon (eastern time) on April 23.  The winner will be announced, officially, by 6 PM on that same day.
You can see all the stories of devoted loved-ones here.  I'll be voting for the Brisenos, but you should vote for the care-givers that touch you.
If ever there was a contest where everyone deserved to win, this would be it.  And if ever there were stories about patriotism, selfless love, and devotion—these are them; and they deserve to be heard.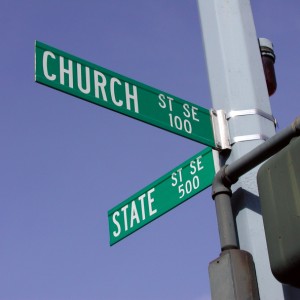 The Pell Center's next roundtable lunch and conversation will be:
The Time: Wednesday, April 18, at 12:00 PM.
The Place: Wakehurst 003–Basement
The issue: God and American politics.
Featuring: Dr. Dan Cowdin, Associate Professor Religious and Theological Studies and Dr. Jim Ludes, Executive Director of the Pell Center.
"Pay Caesar what belongs to Caesar — and God what belongs to God."
— Jesus Christ in Mark (12:17)
"I certainly believe in the separation of church and state. I do not believe in the separation of faith and politics."
— Rick Warren on ABC News "This Week," April 9, 2012

Jesus Christ drew a distinction between God and government that has resonated across the millennia.  In the midst of a U.S. presidential campaign, however, religious language and fervor often blur the distinction, leading to political conversations that sound and feel theological.
So the question for this roundtable is:
What is the proper role for God in American politics?  Should the Gospel be the basis for public policy?  Do some politicians exploit—with or without distortion of God's word—faith for political gain?
Share your thoughts here, and RSVP to [email protected] to join us for lunch on April 18!
(Note: The blog is open to all to participate, but lunch is open only to members of the SRU Community: students, staff, and faculty.)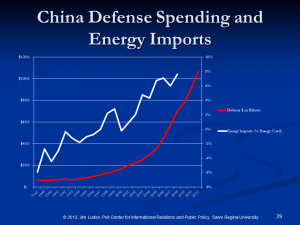 Webster's defines "geopolitics" as:
a study of the influence of such factors as geography, economics, and demography on the politics and especially the foreign policy of a state
a governmental policy guided by geopolitics
a combination of political and geographic factors relating to something (as a state or particular resources)
And during the Cold War we talked about geopolitics, or so it seemed, with a lot more frequency than we have in recent years.
But competition for energy supplies makes us think about geopolitics.
And here, my mind can't help but be drawn to China.
A couple of key points from the International Energy Agency:
48% of global growth in energy demand between now and 2035 will come from China.  In fact, by the end of that time, China is projected to use 170% of the energy that the United States uses.
While the bulk of that demand for energy will come in the form of energy for industry (read: coal), China's burgeoning middle class will also consume more and more petroleum.
And here's where things get a bit provocative on the energy geopolitics front.
Until the mid-1990s, China was a net exporter of energy.  But since that time, it has imported more and more of its energy, and those projections only grow.
Out of curiosity, I decided to track China's defense spending against the percent of its energy that is imported.  The above chart depicts the data.
Now as my friend and former colleague Bernard Finel always reminds me, correlation is not causation, but the trend lines here are fascinating for what they suggest about China's increase in defense spending in relation to its need for foreign sources of energy.