A Conversation about the Strategy and Politics of the Crisis in the Middle East
Thursday, September 5, 2013 | 6:00 PM
RSVP to [email protected] or 401-341-2927
DiStefano Hall, Antone Center
(Corner of LeRoy and Lawrence) on the campus of Salve Regina University
Featuring
Timothy D. Hoyt, Ph.D.
Professor of Strategy and Policy, U.S. Naval War College and author of the recent article, "How to Attack Syria," in The National Interest http://bit.ly/18pZxYR
and
Dr. Clark Merrill
Associate Professor and Chairman, Department of Political Science, Salve Regina University
On August 21, 2013, chemical weapons were used to attack civilians in the suburbs of Damascus, Syria.  It was not the first time chemical weapons had been used in the Syrian civil war, but for the administration of President Barack Obama, their use was the crossing of the "red-line" the President had warned would provoke an armed American response.  Failing to win support in the United Nations or from America's closest ally, the United Kingdom, President Obama last week announced he would seek Congressional authorization for the use of force in Syria.
With Congressional hearings underway, and a vote expected next week in Congress, join us at the Pell Center to discuss the strategy, the policy, and the politics of what may become America's fourth war in the last decade.
Thursday, September 5, 2013
6:00 PM
DiStefano Hall, Antone Center
(Corner of LeRoy and Lawrence) on the campus of Salve Regina University
RSVP to [email protected] or 401-341-2927
Timothy D. Hoyt is Professor of Strategy and Policy and the John Nicholas Brown Chair of Counterterrorism Studies at the U.S. Naval War College in Newport, Rhode Island, where he has taught for ten years,.  Dr. Hoyt earned his undergraduate degrees from Swarthmore College and his Ph.D. in International Relations and Strategic Studies from The Johns Hopkins University's Paul H. Nitze School of Advanced International Studies in 1997.  Before joining the Naval War College, he taught at Georgetown University's School of Foreign Service. Dr. Hoyt is the author of Military Industries and Regional Defense Policy: India, Iraq and Israel, and over 40 articles and chapters on international security and military affairs.   Recent publications include chapters and articles on the war on terrorism in South Asia, the limits of military force in the global war on terrorism, the impact of culture on military doctrine and strategy, military innovation and warfare in the developing world, U.S.–Pakistan relations, the impact of nuclear weapons on recent crises in South Asia, and the strategic effectiveness of terrorism. Dr. Hoyt served previously as Co-Chairman of the Indian Ocean Regional Studies Group at the Naval War College.  He is currently working on a multi-volume study of the strategy of the Irish Republican Army from 1913-2005, a series of projects examining U.S. relations with India and Pakistan, and analyses of irregular warfare and terrorism in South Asia.
Newport, RI—The Pell Center at Salve Regina University today announced the appointment of two new fellows. Joining a growing group of scholars and policy innovators are Dr. Robert Hackey and Ms. Carolyn Deady.
Robert Hackey is Program Director and professor of Health Policy and Management at Providence College. "We're lucky to have Dr. Hackey join the fellows at the Pell Center," said Dr. Jim Ludes, executive director of the Pell Center. "He's helped build a distinctive program at PC that examines the relationship between healthcare and our broader society. That kind of focus and interest is exactly what the Pell Center is about, and we're delighted to work with him."
Hackey will be a visiting fellow at the Pell Center in the Spring of 2014 while on sabbatical from Providence, until then he will be affiliated as an adjunct fellow. "I met Bob almost two years ago," said Ludes, "and was immediately drawn to his work. We have a project at the Pell Center examining the role of storytelling in public affairs, and Bob's own scholarship has focused on how the way we talk about crises in healthcare have distorted public policy. His work is a terrific addition to what's happening at the Pell Center."
"My work on the rhetoric of health care reform and the use of symbols and stories in policy debates parallels the Pell Center's recent initiatives on storytelling in the public square," Professor Hackey said. "I look forward to sharing my work with the community at Salve Regina University."
Also joining the team of fellows at the Pell Center is Carolyn Deady. "I have known Carolyn Deady for more than a decade," said Ludes, "back to the time when she was responsible for C-SPAN's coverage of international politics. She understands better than most that the challenges we face in the United States are not necessarily unique, and I'm excited about the project she'll lead at the Pell Center."
Deady will develop a project on global challenges—examining seemingly insurmountable U.S. domestic policy issues like healthcare, immigration, an aging population, and the affordability of higher education from an international perspective. "Carolyn's project is exciting," said Ludes, "because she gets to turn the lens on American politics and look at the way other countries have dealt with—and in some cases solved—challenges that have proven so difficult in the American experience." Initial studies are expected to be completed this autumn.
"Looking at domestic challenges from an international perspective is an under-appreciated approach," said Deady. "There's sometimes a tendency to take a myopic approach toward our own challenges when possibly much could be learned from other societies which have addressed similar issues."
Full biographies follow and are available with photographs at: http://www.salve.edu/pellcenter/fellowsandstaff/
Robert Hackey
Day Job: Program Director/Professor of Health Policy and Management, Providence College
Areas of Expertise: Health care reform at state and national levels, health care in popular culture, health care regulation of hospitals, certificate of need regulation, public opinion and health care, language and public policy/problem definition
Robert B. Hackey is professor of Health Policy and Management at Providence College. He is the author of Cries of Crisis: Rethinking the Health Care Debate published in 2012 by the University of Nevada Press. His previous books include The New Politics of State Health Policy (University Press of Kansas, 2001) and Rethinking Health Care Policy: The New Politics of State Regulation (Georgetown University Press, 1997), co-edited with David Rochefort. His articles on health care reform, hospital regulation, and certificate-of-need laws have appeared in the Journal of Economic Issues, the Journal of Health Politics, Policy and Law, the Journal of Trauma, and Medical Care Review, among others. In 2008, he was recognized as Professor of the Year for the State of Rhode Island by the Carnegie/CASE U.S. Professors of the Year Program.
Carolyn Deady
Areas of Expertise: World legislatures, international media, Congressional affairs, media analysis, education
Carolyn Deady is a freelance journalist and former international producer at C-SPAN (Cable-Satellite Public Affairs Network) in Washington, DC. While at C-SPAN, she was the liaison with world legislatures, obtaining coverage of parliamentary proceedings for broadcast. She also worked with television networks worldwide in getting foreign newscasts to offer the C-SPAN audience an international perspective on events affecting the United States. Ms. Deady also covered multiple parliamentary and presidential races in the field, including the British House of Commons and the Mexican Presidential race of 2000. She also field produced programming of U.S. Congressional and presidential elections. Ms. Deady is also an adjunct fellow at the American Security Project, a non-profit, non-partisan public policy and research organization based in Washington, DC.
# # #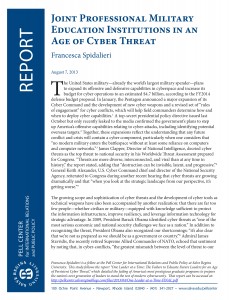 New study finds mismatch between the challenges posed by cyber threats to national security and the limited exposure students receive at the nation's senior military schools
Newport, R.I. – America's military graduate programs are struggling to integrate cyber education within their curricula and to reorient their academic objectives and outcomes to prepare senior military officers to lead in the cyber age. In a new study, "Joint Professional Military Education Institutions in an Age of Cyber Threat," Pell Center Fellow Francesca Spidalieri surveys efforts by senior military institutions in the United States to educate their graduates—and ultimately the nation—for the strategic and operational challenges of our time. This study follows the report "One Leader at a Time: The Failure to Educate Future Leaders for an Age of Persistent Cyber Threat," which detailed the failing of America's most prestigious civilian graduate programs to prepare graduates to lead in an era of persistent cyber threat.
"On the whole, the schools that offer joint professional military education (JPME) are, like their civilian counterparts, not yet up to the challenge posed by cyber risks and opportunities," said Spidalieri.  "There can be little doubt that military conflict in the future will contain a cyber component," she said, adding "yet the training of America's next generation of military leaders remains locked in time, focused on traditional military paradigms and traditional rules of war, and too often failing to convey an understanding of the underpinning of the new digital battlefield."
In this report, Spidalieri surveyed the six military graduate programs that offer joint professional military education and that traditionally develop strategic and operational leaders for the U.S. military. The results provide an overview of current efforts by these institutions to include information technology and cyber security into their curricula. To date, most of the programs reviewed for this study have neither fully integrated cyber into their existing core curricula nor aligned their programs with the strategic goals of the nation's cyber defense strategy.
"The professionalism inherent in American military officers comes from a deliberate combination of education, training and experience designed to produce successful senior leaders," said Maj. Gen. Brett Williams (USAF), Director of Operations for U.S. Cyber Command. "Despite the fact we have over 20 years of experience with conflict in cyberspace," he continued "we have yet to effectively integrate cyberspace operations into professional military education.  Ms. Spidalieri's research makes this point clearly and defines the imperative for immediate action at the War College level for both military leaders and their civilian counterparts.  Too often when the money gets tight, education pays the price.  We simply cannot let this happen.  Our national security depends on leaders with the right mix of cyberspace education, training and experience and we need them now."
"No captain of a ship would say: 'I don't know anything about the ocean, but I hired somebody to drive the ship,' quipped Spidalieri.  "Similarly, future generations of military leaders and government officials who have to navigate a digitized world need to have strong cybersecurity skills, the ability to make military and policy decisions based on knowledge of cybersecurity risks and potential impacts, and the understanding necessary to leverage cyberspace advantage to create effective strategies. This will be the deciding factor for military success and resiliency."
Advanced militaries around the world are embedding cyber capabilities in their existing force structures and military planners are incorporating cyber-attack into their doctrines and plans. The United States—which already has one of the most powerful offensive cyber capabilities in the world—is developing rules of engagement regarding cyber-attacks and is seeking to bolster its arsenal of cyber weapons. U.S. government officials and senior military officers regularly decry cyber threats as the top threat to national security, recognizing that a well-executed cyber-attack could not only seriously damage our economy but also jeopardize the execution of entire military missions.
"Cyber-attacks are among the greatest national security threats facing our country today," said Senator Sheldon Whitehouse.  "This report is a valuable resource for our professional military education institutions.  As our troops train in the 21st century, they must be fully prepared to confront cyber threats."
The report is based on the premise that military leaders need not have specific training in computer science or engineering, but they must have a deep understanding of the cyber context in which they operate, compounded with more traditional fields such as military ethics, strategic studies, international law, and so forth. "As soldiers, sailors, airman, and marines turn their attention from incoming missiles to cyber weapons, a technology-centric education will be insufficient to counter and mitigate current and future cyber threats," Spidalieri stressed. "Only a truly comprehensive education will help foster modern military leadership and enable them to harness the right tools, people, and strategies, and balance of offensive and defensive cyber capabilities.  Part of that education must be in cybersecurity."
"The key question is not whether the United States can develop the most powerful cyber capabilities in the world—we can," said Pell Center Director Jim Ludes.  "The question," he continued, "is whether our leaders—be they military or civilian—are equipped with the knowledge necessary to protect the things that matter in the information age and to leverage those things to our strategic advantage."
The report—drafted after four months of extensive research and interviews—illustrates the current state of affairs of senior military graduate program to further the assimilation of cyber into the operational arena for each physical domain.  The fundamental question was whether these programs included courses, occasional conferences, war gaming exercises or other forms of training for their officers to be exposed to cybersecurity issues and gain the knowledge necessary to integrate cyber capabilities and information activities with other U.S. government actions.
The report finds that much remains to be done. Although the report praises the increased effort by military graduate programs to develop new content for cyber education—especially in comparison to the much slower or nonexistent progress in American civilian universities—a preparation gap still persists. In brief, there remains a significant imbalance between the evident need to educate all military leaders about the complexities of cyberspace and the marginal role that cyber education still plays in some of the JPME institutions evaluated. The different level of exposure to cyber education and training seems more striking when comparing some of these graduate programs that should, at least in theory, offer similar joint professional military education curricula.
To download a copy of the report, click here.
Scholars and Practitioners will support wide-ranging efforts in public affairs and international relations
Newport, RI—The Pell Center for International Relations and Public Policy at Salve Regina University today announced the addition of five new fellows to its growing cohort of scholars and practitioners.  With distinguished careers in journalism and the academy, the group is the second to join the Pell Center since the creation of its fellows program last autumn.
Adjunct Fellow
Mr. Robert Whitcomb
Day Job: Vice President/Editorial Page Editor of the Providence Journal
Areas of Expertise: Media, Renewable Energy, Healthcare, New England Culture, Business, Politics, International Affairs, Developing World Economics
After having been educated in New England and New York schools, Bob Whitcomb embarked on a 43-year career in writing and editing, mostly as a journalist. Beginning as a writer at the Boston Herald Traveler after college, he worked subsequently at the Wilmington (Del.) News Journal and was an editor at The Wall Street Journal where, among other things, he occasionally wrote the World-Wide column. Whitcomb later became the financial editor of the International Herald Tribune, based in Paris. He has been editorial-page editor at The Providence Journal since 1992, and also vice president since 1997.  There he also helped plan annual public-affairs conferences with Brown University. Along the way Whitcomb has written and reported for such national magazines as Newsweek and The Weekly Standard, been the editor of several books and international newsletters and co-written a book called Cape Wind.  Whitcomb has co-hosted a weekly public-affairs show on television and is a frequent guest on National Public Radio.
Faculty Fellows
Dr. Emily Colbert Cairns
Day Job: Assistant Professor of Modern and Classical Languages, Salve Regina University
Areas of Expertise: Early Modern Spain and Latin America, Diaspora and Sephardic Studies
Dr. Emily Colbert Cairns was born in New York and did her graduate work in Spanish literature in California. Her research explores crypto-Jews and conversos in the Early Modern period and the larger Sephardic Diaspora. She studies how women through material practice preserve culture and religious tradition.
Professor Robin L. Hoffman
Day Job: Professor and Chairwoman of Administration and Justice, Salve Regina University
Areas of Expertise:  Juvenile Justice
Robin L. Hoffmann, J.D. is a Professor of Administration of Justice and the Chair of the Administration of Justice Department at Salve Regina University.  Professor Hoffmann's focus has been in the field of juvenile justice and family violence.  She served as Vice Chair and Chair of the Rhode Island Juvenile Justice Advisory Committee and as a member of the Governor's Justice Commission.  She has been a member of the RI Attorney General's Domestic Violence Task Force, chairing its Juvenile Subcommittee, and has worked with the RI Family Court Truancy Court in planning conferences at Salve Regina University. Professor Hoffmann is a graduate of New York University and Rutgers University School of Law and is a member of the NY Bar. She is the Pre-Law Advisor for Salve Regina University.
Dr. Jon Bernard Marcoux
Day Job: Assistant Professor of Cultural and Historic Preservation
Areas of Expertise: Cultural and Historic Preservation, Cultural Heritage Management, Historic Preservation Law, Archaeology, Native American Policy
Dr. Jon Bernard Marcoux is an archaeologist who specializes in cultural and historic preservation and the study of late prehistoric and early historic Native American Indian societies. He has over 15 years of professional experience serving as a preservation consultant for private firms and government agencies across the southeastern U.S.  As a teacher and researcher, he explores the role of public policy in balancing the benefits of economic development with the need to protect our cultural heritage locally and nationally.
Ms. Susannah Strong
Day Job: Lecturer of Art, Salve Regina University
Areas of Expertise: Art in the Public Sphere. Art as a Vehicle for Reinterpreting Space and Reevaluating the Environment.
Susannah Strong received an undergraduate degree in painting from the Rhode Island School of Design and a master's degree in visual arts/textiles from Goldsmiths College, University of London.  Her work has been exhibited in museums and galleries throughout the United States and England, and is included in the private collections of playwright Edward Albee as well as the late Sol Lewitt and curator Walter Hopps.  Strong is a three-time recipient of Individual Fellowships from the Rhode Island State Council on the Arts: twice in Three Dimensional Art and once in New Genres. She has been nominated for both a Louis Comfort Tiffany Award and the Saint-Gauden's Memorial Fellowship.   In addition to her studio practice and teaching, Strong worked in the field of historic preservation for over eight years. She has helped to conserve many of the historic mansion museums that surround the Salve campus.
With these additions, the Pell Center now has 20 fellows who specialize in a diverse range of fields, from cybersecurity and healthcare to national security, international relations, and human rights.
"I am delighted by the continued growth and energy we see at the Pell Center," said Dr. Jim Ludes, the center's director, "but mostly I'm grateful to this distinguished group for what I know will be a body of meaningful contributions to the public dialogue on important issues."  He continued, "We're building a team that reflects the strengths and identity of Salve Regina University: from the policies that support cultural and historic preservation, to healthcare, education, and broader national and international issues.  It's an exciting time to work here and these new fellows will make an immediate impact."
# # #
From Saturday's Providence Journal:
NEWPORT — One-time presidential candidate Gary Hart spoke in Newport on Friday as part of a daylong conference on storytelling hosted by Salve Regina University in partnership with The Providence Journal.

Hart was the keynote speaker at the inaugural Story in the Public Square conference hosted by the Pell Center for International Relations. He served in the U.S. Senate with Clairborne Pell, the Newport Democrat for whom the center is named. Hart, of Colorado, twice was an unsuccessful candidate for the Democratic presidential nomination. . . .

Now 76 and distanced from active politics, the former senator mostly stayed away from politics in his speech, focusing instead on the theme that stories connect us to "home."

"Stories will always resonate because we need them," said Hart, dressed in a dark sport coat that set off hair gone near totally silver. "There seems to be an elemental human need to tell ourselves and our children stories."

"We need stories to tell us where we are [and] where we are headed," Hart said. "We need stories most of all to find our way home."
For complete coverage, please click this link.
NEWPORT, R.I. — Pulitzer Prize-winning author and journalist Dana Priest was honored on Friday, April 12, 2013, with the inaugural Pell Center Prize for Story in the Public Square, an award recognizing a contemporary storyteller whose work has had a positive impact on public affairs.
Priest, a Washington Post staff writer, received the award during the maiden Story in the Public Square conference at Salve Regina University that also featured a keynote address by Gary Hart, former U.S. senator from Colorado and now an author and Huffington Post blogger. Winners of a student story contest were also announced at the Friday conference.
"Dana Priest's reporting has changed public policy.  Look no further than the stories for which she won her two Pulitzer Prizes: the CIA's secret prisons and deplorable conditions at Walter Reed Army Medical Center," said Jim Ludes, Executive Director of the Pell Center.
"This will be an annual award, and giving it first to Dana Priest speaks to how highly we respect and applaud her writing," said Story in the Public Square co-director and Providence Journal staff writer G. Wayne Miller. "Beyond her public-service contributions, she is an inspiration to journalists and anyone who cherishes the written word. She is a writer's writer."
Friday's day-long conference included a panel on ethical storytelling moderated by Karen Bordeleau, acting executive editor of The Providence Journal, and a panel moderated by Salve Regina University professor Donna Harrington-Lueker. The Journal's award-winning documentary, "Coming Home," about veterans of the wars in Iraq and Afghanistan, was shown.
Sophie Zander, a student at Ursinus College in suburban Philadelphia, took first prize in the inaugural SIPS student contest for her story, "A Boy." Honorable mentions went to Community College of Rhode Island's Madelin Schlenz's  "I Brought My Brother Home" and Central Connecticut State University's Ron Farina's "Unbreakable Embrace." The winners were chosen from a strong field of submissions challenged to write about the veteran's experience.
Friday's day-long conference was the official launch of the year-round Story in the Public Square program, which will include a fall event, a vigorous ongoing online conversation, storytelling resources and connections, and other activities related to the intersection of public policy and story in its many forms: writing, film, art, song and more.
Story in the Public Square is a partnership between the Pell Center and The Providence Journal. Friday's conference, which was expected to attract an audience of nearly 200, was made possible, in part, with a major grant award from the Rhode Island Council on the Humanities and the support of the David and Mildred Morse Charitable Trust.
For more about the conference and Story in the Public Square, visit www.publicstory.org
Find on Facebook: www.facebook.com/StoryInThePublicSquare
Follow on Twitter: @pubstory
Hash tag for Friday's event is #SIPS13
On Monday, April 8, 2013, Pell Center Executive Director Jim Ludes and Visiting Fellow G. Wayne Miller appeared on WPRI's "The Rhode Show" to discuss Story in the Public Square.
For more information about the event or to register please click here.
Newport, R.I. – America's colleges and universities are failing to prepare the next generation of leaders for responsibility in an age of cyber threat.  In a new study, "One Leader at a Time: The Failure to Educate Future Leaders for an Age of Persistent Cyber Threat,"  Pell Center Fellow Francesca Spidalieri details the failing of America's most prestigious graduate programs to prepare their graduates—and ultimately the nation—for leadership of critical institutions.
Cyber threats have the potential to undo all the huge economic, social and military advances that cyberspace has enabled. Ultimately, these threats can touch, if not harm, every institution in American society—from the U.S. government to banks and hospitals, universities, corporations, and more. It is no wonder then, that President Barack Obama referred to cybersecurity as "one of the most serious economic and national security challenges we face."
Yet the training of America's next generation of leaders has, on balance, remained remarkably unconnected to the challenges of this century.  In researching "One at a Time," Spidalieri surveyed 70 top-ranked master's-level programs in business, law, public affairs, public policy, international relations, criminal justice, and healthcare management.  The results provide an overview of current efforts by graduate-level programs in the United States to include information technology and cybersecurity education in their curricula.  Not one of the programs reviewed—not one—includes any aspect of cybersecurity among their core requirements.  In fact, of the 70 elite programs surveyed, only 10 clustered among five universities scored 3.0 or higher on a four-point scale to assess the exposure their students receive to cybersecurity issues.
"Ultimately, achieving cybersecurity is more than a technical problem," said Spidalieri who studies the issue for the Pell Center.  "It is an operational problem," she continued, "and only the leaders of institutions have the authority necessary to implement the fundamental, overarching policies that can begin to address some of these threats."
The report is based on the premise that institutional leaders need not have specific training in engineering or programming, but they must be equipped with a deep understanding of the cyber context in which they operate to harness the right tools, strategies, people, and training to respond to a dynamic and rapidly‐developing array of threats.
"The menace of cyber attack threatens our national and economic security, as well as our privacy," said Sen. Sheldon Whitehouse, who chaired the Senate Select Committee on Intelligence's Cybersecurity Task Force in 2010 and has been active in efforts to craft cybersecurity legislation.  "This report is a stark assessment of the role of higher education in preparing future leaders to face the challenges of modern cybersecurity.  I applaud the Pell Center for its ongoing work to raise awareness of cyber threats."
Pell Center Director Jim Ludes is worried about the readiness of institutions across the United States.  "Generally speaking, most institutions in our society," he said, "are run by individuals who lack any kind of training in cybersecurity.  These executives earned their degree in fields primarily relevant to their work, appropriately, and not in computer network security.  As a result, the pillars of our society—our universities, our hospitals, our local governments, our courts, and many of our businesses—are often led by individuals with an extremely limited exposure to cyber issues, except that offered through bitter experience."
The report—drafted after six months of research by Spidalieri—draws on a wealth of information and sources.   The fundamental question was whether these academic institutions included courses, occasional conferences or other forms of training for their students to gain a comprehensive understanding of the cyber context and the practical knowledge needed to manage the information security needs of their sector.  Although the report makes clear that some American universities have started to develop new content for cybersecurity education across different disciplines, the report also illustrates that the problem runs deep and wide. In brief, there remains a strong imbalance between the evident need for leaders to have, at minimum, a basic knowledge of the web, its players, technical dynamics, policy implications and emerging trends, and the marginal role that cyber-security education still plays in most graduate programs.
"We do not consider this survey as delivering a final verdict on the state of cybersecurity leadership development in America's higher education system," Spidalieri said, "but hope that this work catalyzes additional research into ways to develop non-technical cyber leaders across society."
Ludes added, "America's future security hinges on its ability to prepare leaders for the challenges of the digital age.  Our universities have to be part of the solution."
To download a copy of the report, click here.
#             #             #
There is no decision more grave than a decision to go to war.  History has taught us, time and again, that once unleashed, the dogs of war have no master.  Unintended consequences abound.  And no plan survives first contact with the enemy.
As we approach the ten year anniversary of the war in Iraq, those truisms—almost cliché—have to be uppermost in our minds when we talk about that war.
The Iraq war raised fundamental questions about the appropriate use and purpose of American power.  Its architects belong to a school of thinkers called "neo-conservative."  They believed that the combination of American military power and its benign intent would enable the United States to transform the politics of the Middle East with a lightening strike in Iraq.
They seized on the public's fear after 9/11 and took us to war.  A decade later, it's appropriate to think about the lessons the Iraq war holds for the exercise of American power in the future.
And today, on the tenth anniversary of the start of the war, there are three ideas uppermost in my mind—about history, about judgments, and about the proper use of American power.  In the end, any reckoning often involves painful truths.  And the Iraq War has plenty for folks left-right-and-center.
Idea 1: Modern Iraq has never known political stability
After World War I and the dissolution of the Ottoman Empire, the League of Nations granted a mandate to Britain in Mesopotamia.  British diplomats like Gertrude Bell—famous for traveling across the desert and living amongst the Bedouins—devised a state whose boundaries and structure demonstrated little regard for historic animosities.
In the 35 years from 1933 to the Ba'th seizure of power in 1968, Iraq suffered from 25 incidents of extra-constitutional disturbances: coups, attempted coups, uprisings, sectarian and political hostilities, and so forth.  25 incidents in 35 years—that's an average of one every 17 months.  If we expand the calendar to Saddam's rise to prominence in 1978, the incidents average one every 18 months.
Throughout this period, carrying on the tradition dating to the Ottoman experience, the Sunnis in Iraq dominated the bureaucracy and the military.  The record of political violence is almost always of one group, political or sectarian, trying to gain advantage over others—or of the Kurds trying to break-free.
This historical experience created a tremendously violent political tradition that continues to manifest itself today.
Idea 2: George H.W. Bush and the Exercise of Prudence
During the presidency of George H. W. Bush, comedian Dana Carvey skewered the president regularly on Saturday Night Live.  "Nah gonna do it," Carvey would say, his hand rigidly gesturing, his voice contorted to mimic Bush's, "Would'n' be prudent at this juncture."
But it was his father's prudence and good judgment that President George W. Bush was so sorely missing.
On September 2, 1990, Saddam Hussein invaded Kuwait.  The United States, under the leadership of President George H. W. Bush marshaled a mighty international coalition and expelled the invader the following spring.
Most importantly, the first President Bush never sought regime change.  He and his national security advisor, Brent Scowcroft, detailed the thinking in 1998:
Trying to eliminate Saddam, extending the ground war into an occupation of Iraq, would have violated our guideline about not changing objectives in midstream, engaging in "mission creep" and would have incurred incalculable human and political costs.  Apprehending him was probably impossible.  We had been unable to find Noriega in Panama, which we knew intimately.  We would have been forced to occupy Baghdad and, in effect, rule Iraq.  The coalition would instantly have collapsed, the Arabs deserting it in anger and other allies pulling out as well.  Under those circumstances, there was no viable "exit strategy" we could see, violating another of our principles.  Furthermore, we had been self-consciously trying to set a pattern for handling aggression in the post-Cold War world.  Going in and occupying Iraq, thus unilaterally exceeding the United Nations' mandate, would have destroyed the precedent of international response to aggression that we hoped to establish.  Had we gone the invasion route, the United States could conceivably still be an occupying power in a bitterly hostile land.  It would have been a dramatically different—and perhaps barren—outcome."

–George H. W. Bush and Brent Scowcroft, A World Transformed, 1998.
Idea 3: The Neocons and the Aggressive Use of American Power
In the aftermath of the 1991 conflict, the Bush administration built a robust containment regime in the Persian Gulf region.  No-Fly Zones, punitive sanctions, and arms inspections limited Iraq's sovereignty and contained the threat from Baghdad.
That's not to say this was anything like the containment strategy in place against the Soviet Union in the Cold War.  Military strikes were common—either against air-defense systems in the no-fly zones, or in larger strikes following the attempted assassination of President George H. W. Bush in Kuwait or Operation Desert Fox.
By the end of the 1990s, a decade long strategy of containment had slowly strangled the Iraqi regime of Saddam Hussein.  His weapons of mass destruction programs were suspended because of U.N. Sanctions.  But with the ejection of U.N. inspectors after Desert Fox, the United States was effectively flying blind about Saddam's weapons programs.
Political leaders in both parties began to worry in public about the consequences of this intelligence gap.  They worried that the containment strategy was buckling under the pressure of black-market smuggling of Iraqi oil and abuses of the UN's Oil-for-Food program.
Into this environment came a cabal that believed the United States had been too timid in the first Gulf War, who believed that American power was being frittered away in the desert, and that our strategy was failing.  They organized in the Project for a New American Century and their 1998 letter to President Clinton is widely recognized as the beginning of the campaign to topple Saddam that resulted in Operation Iraqi Freedom.
But in the neocon manifesto, there echoes the autopsy of another war:

There is a final result of Vietnam policy I would cite that holds potential danger for the future of American foreign policy: the rise of a new breed of American ideologues who see Vietnam as the ultimate test of their doctrine. I have in mind those men in Washington who have given a new life to the missionary impulse in American foreign relations: who believe that this nation, in this era, has received a threefold endowment that can transform the world. As they see it, that endowment is composed of, first, our unsurpassed military might; second, our clear technological supremacy; and third, our allegedly invincible benevolence (our "altruism," our affluence, our lack of territorial aspirations). Together, it is argued, this threefold endowment provides us with the opportunity and the obligation to ease the nations of the earth toward modernization and stability: toward a fullfledged Pax Americana Technocratica. In reaching toward this goal, Vietnam is viewed as the last and crucial test. Once we have succeeded there, the road ahead is clear. In a sense, these men are our counterpart to the visionaries of Communism's radical left: they are technocracy's own Maoists. They do not govern Washington today. But their doctrine rides high.

—James C. Thomson, "How Could Vietnam Happen: An Autopsy," The Atlantic, April 1, 1968.
Why It Matters
Learning the right lessons from Iraq matters for so many reasons.  But the starkest reason to study the conflict is found in the lives lost, the bodies and minds scarred, the dead and the wounded.
The war in Iraq cost the United States and its coalition partners the lives of 4,804 service members.  U.S. casualties alone were 4,488.  32,221 Americans were wounded in action.  And untold thousands more have been scarred with the invisible wounds that come with war—post-traumatic stress and other emotional wounds.
We have an obligation to those who wear the uniform to get this right.  And we have an obligation to those who will wear the uniform in the future to learn lessons from this war so that its mistakes are never again repeated.
Financially, estimates vary, but a good range for the actual cost of the war in Iraq is $800 billion to more than $1 trillion—between March 2003 and December 2011.  Put another way, Iraq was more costly than World War I, the War in Korea and the Vietnam War and cost as much, by some estimates, as Korea and Vietnam combined.
Worse still, we didn't pay for the war.  We financed it on the backs of our children and grand-children.
Lessons on the Use of American Power
Iraq was a mistake, a colossal misjudgment, and ten years after the start of the war, the implications are clear:
You can accomplish great things through diplomacy, political strategy, and military readiness.  Saddam was contained.  He did not threaten his neighbors.  He was not actively pursuing WMD.
Challenges to American interests are not always best met by the direct, unilateral application of American power.  Simply compare the costs of Iraq with the benefits to date.
There remains an appropriate role for American military force in the exercise of American power.  Military power gives credibility and heft to political and diplomatic initiatives.
The value of international institutions is reaffirmed.  In the Autumn of 2002, the unified voice of the United Nations served to put UN inspectors back into Iraq.  They found nothing.  The United States acted before they could establish that Iraq had nothing to hide except its own weakness.  If we didn't have a United Nations, we'd want one.
American political leaders, military leaders, civilians and service members need to be better versed in history, languages, and cultures of the places from where challenges are likely to emanate.  There is both strategic and tactical value in understanding the context in which we find ourselves exercising power.
Congress has been broken for a long time.  There was no real challenge to the President's prerogative to wage a war of choice in Iraq.  There was no sustained inquiry and there was tragically little oversight after the war began.
NEWPORT, R.I. – Dana Priest, a two-time Pulitzer Prize winning journalist for the Washington Post, has been named the inaugural winner of the Pell Center Prize for Story in the Public Square.  The prize honors a modern storyteller whose work has had a positive impact on public affairs. It will be presented at a public conference on April 12 on the campus of Salve Regina University in Newport.
Priest is being honored for her lifetime of work, with special focus on her reporting—along with colleagues Anne Hull and Michel du Cille–on deplorable conditions at the old Walter Reed Army Medical Center in 2007.
Story in the Public Square is a joint initiative of the Pell Center at Salve Regina University and The Providence Journal.  It seeks to examine and, where appropriate, celebrate the role narrative storytelling plays in public affairs.
"I am honored to be the first recipient of the Pell Center Prize," said Priest.  "Senator Pell has been a hero of mine for decades, probably ever since I was a college freshman and learned his name for the first time from the Pell Grant that allowed me to attend school in the first place. He was a larger-than-life figure for me in my beginning days as a reporter as well. So to receive an award in his name for the work I do is especially meaningful to me."
Priest added, "I am especially taken by the idea of Story in the Public Square—and look forward to coming to Newport next month."
"Dana Priest's record as a journalist and as a gifted storyteller made this inaugural choice for the Pell Center Prize easy," said Dr. Jim Ludes, Executive Director of the Pell Center.  "The impact of her story-telling as a journalist and as an author has long been recognized by her peers and by policy makers. Today, we are thrilled to say her work is recognized by the Pell Center as well."
"Storytelling has the potential to move opinion and policy because of its ability to convey emotion, character and insight—the stuff of human experience," said G. Wayne Miller, co-director of Story in the Public Square and a journalist with The Providence Journal.  "Dana Priest, as a journalist, has told stories that matter, and attitudes and policies have changed as a result.  We're thrilled to be able to recognize her."
The conference, Story in the Public Square, on April 12, 2013, is open to the public.  Registration is available online at www.salve.edu/pellcenter.  A $20 registration fee reserves a seat at the conference and lunch that day.
The Pell Center for International Relations and Public Policy is a research center on the campus of Salve Regina University in Newport. Focused at the intersection of politics, policies and ideas, the Pell Center exists to give life to former Senator Claiborne Pell's credo of translating ideas into action to help people.
Story in the Public Square is made possible, in part, from a major grant award from the Rhode Island Council for the Humanities and the David A. and Mildred H. Morse Charitable Trust.
Full Biography of Dana Priest
Dana Priest is a two-time Pulitzer Prize winning investigative reporter and national security expert for The Washington Post. She was the newspaper's intelligence and Pentagon correspondent for over a decade. Following the Sept. 11 terrorist attacks, Priest revealed and documented the largest covert action program in the CIA's history as well as the unprecedented growth and use of the military's clandestine special operations forces around the world. Recently she chronicled the proliferation of counterterrorism agencies in a series of articles and the best-selling 2011 book titled Top Secret America: The Rise of the National Security State (Little Brown).
Priest has traveled widely with Army Special Forces in Colombia, Nigeria and Kosovo and with infantry units on peacekeeping duty in Bosnia, Kosovo and Afghanistan. She has received every major journalism honor, including the 2008 Pulitzer Prize for Public Service for "The Other Walter Reed," about the neglectful care of wounded soldiers at Walter Reed Army Medical Center. She received the 2006 Pulitzer for uncovering the CIA's secret prisons and counterterrorism operations overseas. She is also author of the 2003 book, The Mission: Waging War and Keeping Peace With America's Military (WW Norton).
Priest has appeared on CBS and NBC News, 60 Minutes and PBS's Frontline and well as all the major cable news programs. Priest holds a B.A. in political science from the University of California at Santa Cruz. She lives in Washington DC with her family.
# # #