Although women have served in combat in Iraq and Afghanistan, it was only in the last year that the Department of Defense formally approved women in combat units.  Should women be able to serve in every specialization in the U.S. military?  What does the experience of women in the military say about barriers to women in society?  Why do long-held stereotypes persist?  What can we all do to break them?
Please join us for a provocative lunchtime discussion. Lunch is free for students, faculty and staff. Seating is limited
Date:   April 26, 2013
Time:   12:00 p.m.
Place: Ochre Court – Breakfast Room
RSVP:  [email protected]
Drones and American Society
Over the last decade, drones have risen in the skies over America's wars, along our borders, and now—increasingly—across our land.  What are the implications for our civil liberties of a surveillance—and even strike—capability that is persistent and growing?  Does the President have the authority to strike U.S. citizens with a drone?  Are there ethical implications for drone warfare?
Join us for a provocative lunchtime discussion. Lunch is free for students, faculty and staff. Seating is limited.
Article: http://www.aclu.org/blog/technology-and-liberty-criminal-law-reform/we-already-have-police-helicopters-so-whats-big-deal
When:  Friday, April 5, 2013
Where: Ochre Court, Breakfast Room
Time:  12:00 p.m. to 1:30 p.m.
RSVP: [email protected]
Government regulation of business is often dismissed as a barrier to economic growth.  But others still favor regulation because of a long history of corporate abuses, criminal behavior, and exploitation.  Still, in this age of transparency and information overload, why should the government regulate free enterprise?  Is there a limit to the appropriate power of government?  Should the government have more power?
Join Myra Edelstein, chair of Business Studies and Economics at Salve Regina University for a provocative lunch-time conversation! Lunch is free for Salve Regina University students, faculty and staff.
Date:   March 22, 2013
Time:   12:00 p.m.
Place: Ochre Court – Breakfast Room
RSVP:  [email protected] (seating is limited)
Pell Center Round Table Discussion 1
By now, you've probably heard the advice to be careful what you put on Facebook—but where does common sense end and smart thinking begin?  Join Michael Wisnewski, Director of the Center for Career Development at Salve Regina University for a conversation about how what you put on Facebook and other social media can affect you professionally. The following link will help to get your thoughts flowing – http://mashable.com/2011/10/23/how-recruiters-use-social-networks-to-screen-candidates-infographic/.
The Pell Center is hosting this free-lunch for students, faculty and staff.  The informal conversation will explore everything from the access employers have to your online profiles to what they can learn from your posts, even if you don't post anything inappropriate.
When: Thursday, March 7, 2013
Time:   12:30 PM to 1:30 PM
Where: Rodgers Rec, Room 205
RSVP: [email protected] (seating is limited)
Isabel Wilkerson, who spent most of her career as a national correspondent and bureau chief at The New York Times, is the first black woman to win a Pulitzer Prize in the history of American journalism and was the first black American to win for individual reporting. Inspired by her own parents' migration, she devoted fifteen years to the research and writing of this book. She interviewed more than 1,200 people, unearthed archival works and gathered the voices of the famous and the unknown to tell the epic story of the relocation of an entire people in The Warmth of Other Suns
She has appeared at universities across the country and in Europe and on national programs such as CBS' 60 Minutes, PBS's Charlie Rose, NPR's Fresh Air with Terry Gross, NBC's Nightly News, MSNBC, the BBC, C-SPAN, and others. She has taught narrative nonfiction as Ferris Professor of Journalism at Princeton University, as Cox Professor at Emory University and as Professor of Journalism at Boston University.
*Co-sponsored with Salve Regina University – Mosaic News, Office of Academic Affairs, Office of MissionIntegration and McKillop Library
Date:   April 24, 2013
Time:   7:30 p.m.
Place:  Bazarsky Lecture Hall, O'Hare Academic Center
Salve Regina University
Ochre Point Avenue
Newport, RI
RSVP to [email protected] or 401-341-2927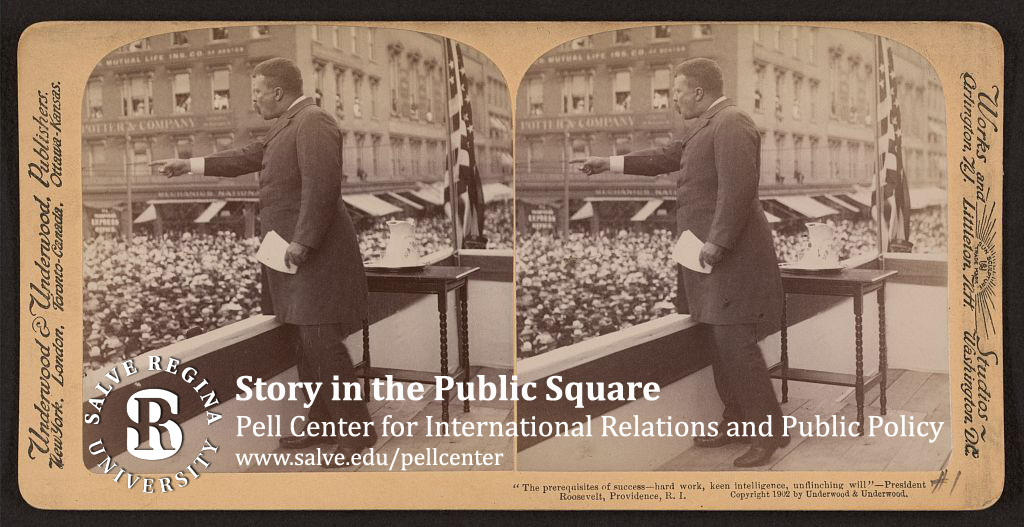 Story in the Public Square is an ongoing initiative to examine the use of storytelling in public affairs. From Homer's depiction of war to the contemporary storytelling of bloggers, journalists, and filmmakers, the power of storytelling to inform, persuade, scare, and inspire is a critical part of our public dialogue.  Individuals learn from stories, they retain them better than cold-facts, and they repeat them – spreading the story and all of its associated emotion, intent, and persuasion.
Story in the Public Square will launch with a public conference on Friday, April 12, 2013.  The day-long event will feature accomplished story-tellers, whether they are journalists, novelists, or filmmakers, a screening of the Providence Journal's acclaimed documentary "Coming Home" about veterans returning to southeastern New England after tours of duty in Iraq and Afghanistan, keynote remarks by former Senator Gary Hart, and the presentation of the first Pell Center Prize for Story in the Public Square.  A detailed description of the event follows below.
Date:   April 12, 2013
Time:   9:00 a.m. – 5:00 p.m.
Place:  Pell Center for International Relations and Public Policy
Salve Regina University

RSVP to [email protected] or 401-341-2927
Additional details about the program, the Pell Center Prize, and a contest for college students will be released in the coming weeks.
For up to the minute news on Story in the Public Square, follow @pubstory on Twitter.
The winner of the inaugural Pell Center prize will be announced in the coming months.
In 2011, a strategic document entitled "A National Strategic Narrative" emerged from the Office of the Chairman of the Joint Chiefs of Staff. The "Narrative" argues for a new American grand strategy that would focus the nation's foreign and domestic policies toward the common goal of building our national strength at home as a means to foster our credible influence abroad.  Specifically, the National Strategic Narrative offered the concept of sustainability as our national strategic imperative for the twenty-first century.
In partial response to this call for grand strategy, the New America Foundation – defining grand strategy as the correlation of America's economic engine, its foreign policy, and its governing institutions to meet the great global challenge of the era – has developed a strategic framework to functionally and pragmatically implement the concept of sustainability in order to take on our generation's great challenge, "global unsustainabiity." In the face of the combined challenges of a burgeoning world population that must be folded into the global economic system; ecosystem depletion at a scale never before seen; the ongoing global "contained depression" that cannot be remedied with paradigmatic fiscal and monetary policy; and a resilience deficit within global economic and political systems; America's response must be to lead – and lead by example.  The country must put its own house in order and, with willing partners, author a prosperous, secure, and sustainable future.  The task is clear: The United States must lead the global transition to sustainability.  An American grand strategy of sustainability is the key to unlock that leadership.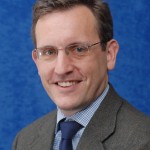 Patrick Doherty is deputy director of the National Security Studies Program and director of the Smart Strategy Initiative. The Smart Strategy Initiative seeks to provoke a new discourse across the United States and world capitals on the central challenge facing the United States, the nature and function of American grand strategy and the contours of a new grand strategy capable of forging a prosperous, secure and sustainable future for the United States. His writing has been published in The New York Times, The Washington Post, CNN.com, ForeignPolicy.com, The Washington Monthly, and The Chicago Tribune. He has appeared on CNN, ABC, BBC, NPR, Bloomberg, the Nightly Business Report and the Australian Broadcasting Service.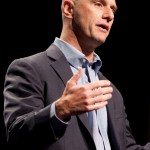 Mark Mykleby was commissioned as a second lieutenant in the Marine Corps following his graduation from the United States Naval Academy in 1987.  He was designated a naval aviator in April 1990 and as a qualified F/A-18 pilot in December 1990.  From January 1991 to May 2006, he served in five fleet fighter squadrons and performed numerous operational squadron billets to include Director of Safety and Standardization, Pilot Training Officer, Aircraft Maintenance Officer, Operations Officer, Executive Officer, and Commanding Officer.  He is a graduate of Marine Weapons and Tactics Instructor School (WTI), the Navy Fighter Weapons School (Topgun), and the Allied Air Forces Central Europe's Tactical Leadership Program (TLP).  Mark's operational experience includes numerous deployments (land based and ship borne) to the European, Pacific, and Southwest Asian theaters in support of Operations PROVIDE PROMISE, DENY FLIGHT, SOUTHERN WATCH, and IRAQI FREEDOM.
Date:   March 20, 2013
Time:   6:30 p.m.
Place:  DiStefano Lecture Hall – Antone Academic Center
Salve Regina University
Lawrence Avenue (at the intersection of Leroy Avenue)
Newport, RI
RSVP to [email protected] or 401-341-2927
In tracing America's long and often tortuous relationship with the murky underworld of smuggling, Peter Andreas provides a much-needed antidote to today's hyperbolic depictions of out-of-control borders and growing global crime threats. Urgent calls by politicians and pundits to regain control of the nation's borders suffer from a severe case of historical amnesia, nostalgically implying that they were ever actually under control. This is pure mythology, says Andreas. For better and for worse, America's borders have always been highly porous. Far from being a new and unprecedented danger to America, the illicit underside of globalization is actually an old American tradition. As Andreas shows, it goes back not just decades but centuries. And its impact has been decidedly double-edged, not only subverting U.S. laws but also helping to fuel America's evolution from a remote British colony to the world's pre-eminent superpower.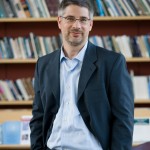 Peter Andreas is a professor in the Department of Political Science and the Watson Institute for International Studies at Brown University. He was previously an Academy Scholar at Harvard University, a Research Fellow at the Brookings Institution, and an SSRC-MacArthur Foundation Fellow on International Peace and Security. Andreas has written numerous books, published widely in scholarly journals and policy magazines, presented Congressional testimony, written op-eds for major newspapers, and provided frequent media commentary.
Date:   March 5, 2013
Time:   6:30 p.m.
Place:  DiStefano Lecture Hall – Antone Academic Center
Salve Regina University
Lawrence Avenue (at the intersection of Leroy Avenue)
Newport, RI
RSVP to [email protected] or 401-341-2927